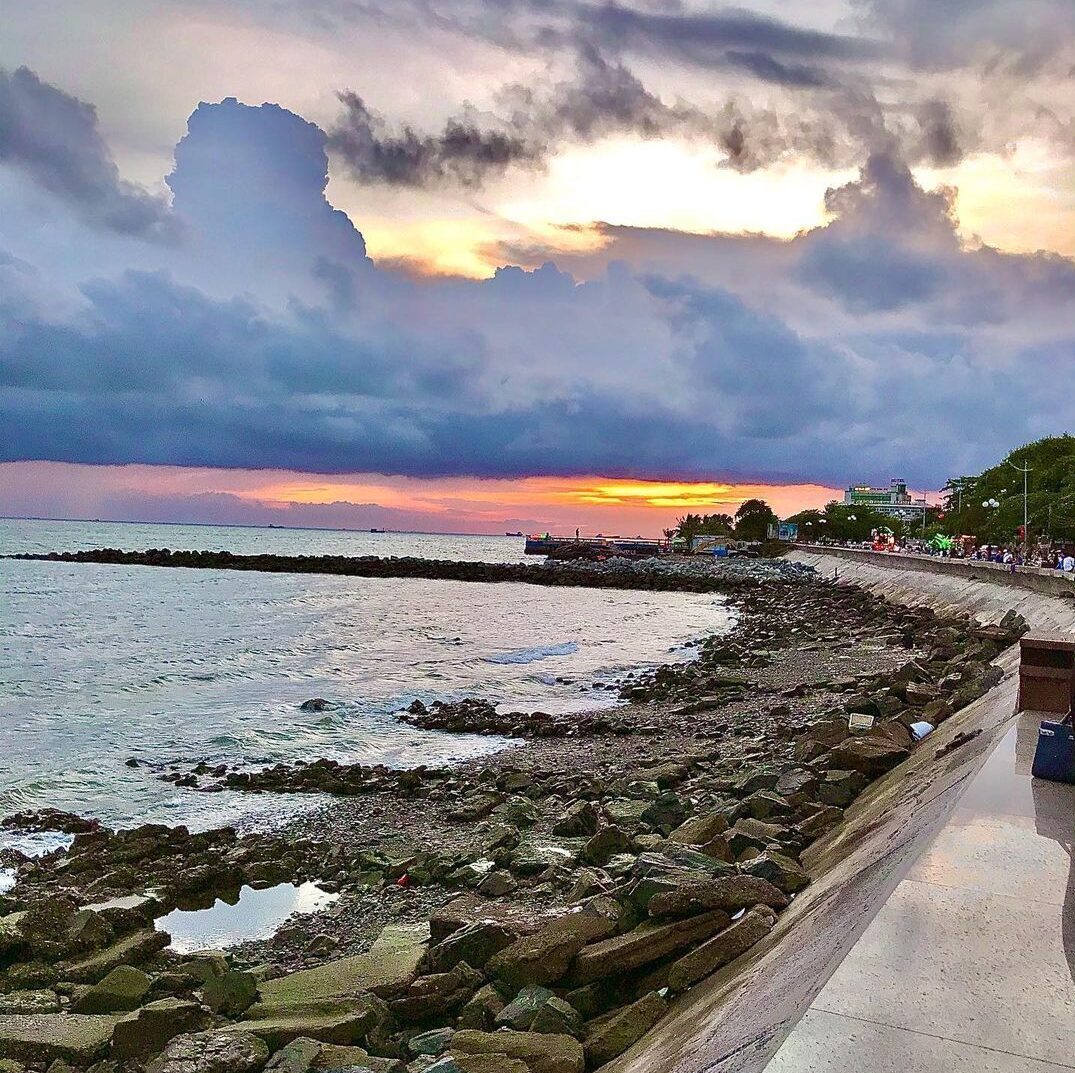 Most of us have complaints about our currency. Because it is too costly in the international strata. Many times we think about some international places. But we can't travel due to a lot of expenditure. Around 75 rupees is equivalent to 1 dollar. If you are thinking to travel abroad, then here is one of those countries, in which you can travel at a low cost.
Vietnam! the land of the "Ascending Dragon". This country is officially known as the Socialist Republic of Vietnam. It is a southeastern Asian country.  It is amongst the most beautiful countries on the continent. The majestic beauty of this country houses mist-covered mountains, clear oceans, and magnificent historical monuments.
Famous Tourist Places in Vietnam:
Halong Bay:
Halong Bay is a heavenly, beautiful place. It is the most popular tourist spot in this region. It is placed in northern Vietnam. Halong Bay got its name from 'Halong' means 'where the dragon descends into the sea'. It is enlisted as a World Heritage Site in 1994.
Ho Chi Minh City:
Ho Chi Minh City in Vietnam is considered to be the largest city. Ho Chi Minh City is also known as Saigon. This city is the financial and cultural capital of the country. Ho Chi Minh City houses the busiest airport in the country, Tan Son Nhat International Airport. The city of Ho Chi Minh has various historical attractions like the Cu Chi and Ben Dinh Tunnels which are the remaining part of its war-torn past.
Hanoi:
Hanoi is the capital city of Vietnam. The city is filled with beauty and romance. This city lies on the banks of the Red River. This charming capital was also earned the title of 'The City of Peace' by UNESCO in 1999. This beautiful city is also known as – 'City of Lakes', for around two dozen water bodies. These water bodies add some beauty to this gorgeous city.  This majestic city is also called 'Paris of the East'!
Hoi An:
Hoi An city is one of the oldest cities in Asia. Hoi An lies in central Vietnam. This city was declared as a World Heritage Site by UNESCO in 1999. This city is situated in the south of Danang. Hoi An means 'a peaceful meeting place'. This city is culturally and historically an important town of Vietnam. It is also one of the richest cities in Vietnam.
Hue:
Hue is the former royal capital of the Nguyen empire in central Vietnam. It is one of the oldest cities in this region. Hue is nestled on the banks of the River Perfume. This city famously houses the Imperial City. It is declared a World Heritage Site in 1993.
Da Nang:
Da Nang is placed on the east coast between Hanoi and Ho Chi Minh City. This city is known as South-Central Vietnam's tourist capital. Da Nang serves a stunning view of the city. This city is filled with museums, beaches, evolving nightlife, and world-class infrastructure. Da Nang is a beautiful place filled with bridges
Nha Trang:
Nha Trang is a beautiful city in Southern Central Vietnam. . Home to some of the most beautiful Vietnam bays in the world. There are activities like sailboating, kiteboarding, scuba diving is famous all year due to the excellent weather. 
Ba Be National Park:
Ba Be National Park of Vietnam is a stunning national reserve, placed 240 km away from the city of Hanoi. This national park is filled with rolling hills, tall limestone karsts, and over 550 plant varieties. This national park is also the habitat of around 353 types of butterflies, 65 types of mammals, and the rare Vietnamese Salamander.
Sapa:
Sapa is a famous hill station, situated at an altitude of 1500 mt. Sapa is known to share a border with China. This place is famous for its high cultural diversity as well as scenic beauty. 
Con Dao Islands:
Con Dao island is an attractive spot to visit in Vietnam. It is situated on the southern coast of Vietnam. These islands of this region are rich in marine biodiversity. This region also serves is also known as Con Dao National Park. 
Phong Nha Ke-Bang National Park:
The Phong Nha Ke Bang national park, Vietnam, is a thrilling destination to visit. It is the perfect place to witness countless flora and fauna conserved in an ecosystem of ancient limestone structures. This National Park of Phong Nha Ke-Bang National Park is enlisted in the UNESCO World Heritage site. This place is famous for its many cave systems. Phong Nha Ke Bang National Park is situated in the center of Quang Binh province in North Central Vietnam. The name of this national park is derived from Phong Nha Cave. This national park is spread over an area of 10,000 hectares, which is mostly covered with dense forests.
Da Lat:
Da Lat is a beautiful and refreshing hill station placed in the southwestern highlands of Vietnam. It is about 6 hours away from Ho Chi Minh City. This magnificent hill station of this region is surrounded by pine trees, lofty hills, blossoming flowers, world-class golf, and relics of French architecture.
Ninh Binh :
Ninh Binh is rich with natural landscapes and abundant historical destinations. It is considered to be the sister destination of Halong Bay. Ninh Binh is a hotspot of ecological diversity. Different shades of green dominate the landscape. This place is surrounded by mountains, caves, and incredibly picturesque limestone sceneries
Phu Quoc Island:
Phu Quoc Island is considered to be the biggest island in this country. It provides the most beautiful scenery of white-sand beaches, surrounded by palm and coconut trees. This place is 45 km from the southern tip of Vietnam and just 4 km from Cambodia.
Buon Ma Thuot:
Buon Ma Thuot was formerly called Lac Giao. It is the capital of the province of Dak Lak. This city is placed in the hills of Central Highlands. This city is also known as the "Capital of Coffee" in this country.
Visa Policy in Vietnam:
The country of Vietnam grants on arrival visas to most of the countries. To check country status, visit https://vietnamvisa.govt.vn/. Visa needs to be applied at least 4 working days before travel. The application can be filled online. However, a visa on arrival is only applicable for air but not by road or waterways.
Visa Policy for Indians:
For Indians, an on-arrival visa can be obtained for Vietnam. The visa application fees per person for the time of under 1 month is US$.35.00 and USD 45 for a 3-month single entry whereas USD 65 for 3-month multiple entries.
Countries that do not need a Visa for Vietnam:
Brunei, Belarus, Denmark, Finland, France, Germany, Italy, Japan, Norway, Russia, South Korea, Spain, Sweden, and United Kingdom. Moreover, citizens of Thailand, Indonesia, Singapore, Malaysia, Cambodia, and Laos do not need a Vietnam visa if they visit within 30 days.
Best Time to Visit in Vietnam:
The best time to visit Vietnam is Spring and Autumn. 
The lowest rainfall is seen during these months across the country. The weather is ideal for trekking in the mountains, swimming at the beach and cycling in the countryside.
Vietnam is a year-round destination. Its weather can be divided into tropical and temperate. South Vietnam has not drastic changes in the weather, while North Vietnam experiences seasonal variations.
[Also Read:
Famous Tourist Places in Nainital, India
Famous Tourist places in Pune, India
Famous Hill Station In Odisha, India
Famous Tourist Places in Sikkim, India
Exotic and Glamorous Places for Destination Wedding in India]