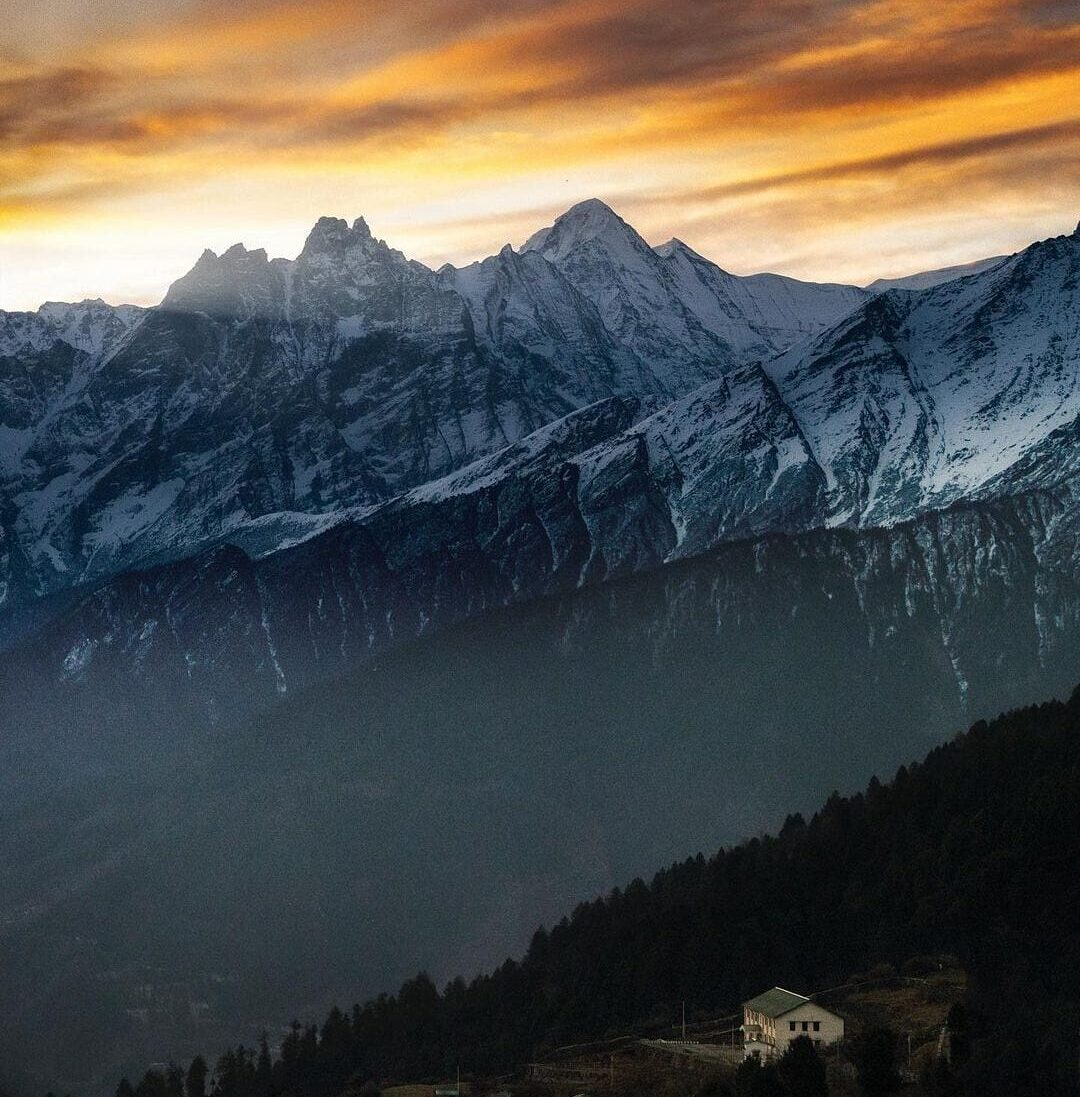 Auli, a beautiful hill station of Uttarakhand is located in the Garhwal region. This beautiful hill station derived its name Auli, meaning meadows, from the characteristics of its topography. Filled with the apple orchards, old oaks, and pine trees there is no scarcity of natural beauty in Auli. Auli is situated at 2800 meters above sea levels.
Auli is a famous skiing destination in India because of its sparkling slopes and pleasant environment. Filled with apple orchards, oaks and deodars, Auli is a beautiful popular hill town with numerous ski resorts situated amidst the Himalayan range. It serves magnificent views of the neighbouring Himalayan peaks,like Nanda Devi, Kamet, Dunagiri and Mana Parvat. There are a huge number of attractions at this hill station. The most famous one of the tourists is the ropeway. 
Famous Tourist Places in Auli:
Trishul Peak:
Trishul peak is one of the major peaks of the Himalayan range. It is one of the most famous and challenging climbs for trekker or trekking enthusiast. The three Himalayan mountain peaks of western Kumaun as a whole form the Trishul peak. It is situated at an altitude of 7120m. 
Joshimath:
Joshimath is also popular as Jyotirmath. It is a hill town situated at the altitude of 6150 feet in Chamoli district of Gharwal region of Uttarakhand. Joshimath is provided as an important religious centre for Hindu pilgrims. This 'math' is dedicated to the holy text of Hindus called Atharva Veda.
Gurso Bugyal:
Gurso Bugyal is situated at an altitude of 3,056masl. It is a picturesque wide meadow in Uttarakhand. It is famous for its lush green pasture land, it is enwreathed with giant coniferous and oak trees. This heavenly trespass serves a stunning view of all the nearby and significant mountain ranges namely Nanda Devi, Dron and Trishul.
Rudra Prayag:
Rudraprayag is a holy place regarded as amongst the Panch Prayags and place of great religious significance. It is situated in Uttarakhand. This beautiful hilly town is full of mysterious charm and the spiritual vibes. This city is lying at the confluence of River Alaknanda and River Mandakini. It offers a spectacular view and mesmerizing panoramic vista. The town boasts of being blessed by Mother Nature in its full glory. The town got its name from the Hindu deity Lord Shiva who is believed to have appeared at the place in the form of Lord Rudra. Rudraprayag is filled with various ancient temples.
Kwani Bugyal:
Kwani Bugyal is a very popular destination amongst trekkers. It is located 12 km from Gurso Bugyal at an altitude of 3380masl. It Offers mesmerising view of snow-capped mountains like Nanda Devi and Dunagiri. It is a popular camping destination. The best time to visit Kawani Bugyal is from June to September.
Chenab Lake:
Chenab Lake is an artificial lake. It is provided as a reservoir for the people of Auli of Uttarakhand. It is a small crystalline lake. This place is less explored and in its purest state, holding the sights of tourists and making it an enchanting spot. Chenab Lake is neighboured by the Garhwal Himalayan range. It still has crystal clear water that acts like a prism to the mountains. 
Nandprayag:
Nandaprayag is the place of conflux of River Alaknanda and Nandakini. It is a place of spirituality and devotion with beautiful landscapes. This is a special place of religious, natural and spiritual significance. Nandaprayag is amongst the five meeting points of Alaknanda River with other rivers flowing into it.
Things to Do in Auli:
Skiing in Auli:
Skiing is one of the most famous things to do in Auli. It offers beautiful views of himalayan peaks such as Mt Nanda Devi Kamet, Mana Parwat, Dunagiri, Beethartoli, Nilkanth, Hathi Parbat, Ghori Parbat and Nar Parbat. The snow-covered hill station of Auli filled with evergreen conifers and the oak forest. It is nestled at an altitude of 2000 -3000 metres above sea level. It is an ideal place for skiing in India.
While skiing in Auli, Uttarakhand, the Gorson Reserve forest houses some of the widely rare Himalayan fauna, such as snow Leopard, Wild Boar, Wild Rabbit, Wild Cat, Jackal, Fox, Musk Deer, Hyena and Bear, which can be seen.
Auli Ropeway:
Cable car ride is amongst the major attractions in Auli is to enjoy. It is locally called as Gondola. The ropeway in Auli is the second highest and the longest cable car ride in Asia after Gulmarg. It covers a total distance of 4 km. The journey of cable car ride starts at Joshimath and ends at Auli. The ropeway works with two cable cars through 10 towers. It can house upto 25 passengers. As there are no seats, the passengers have to keep standing .
Also Read:
famous hill stations in Maharashtra
tourist places to visit in Gujrat