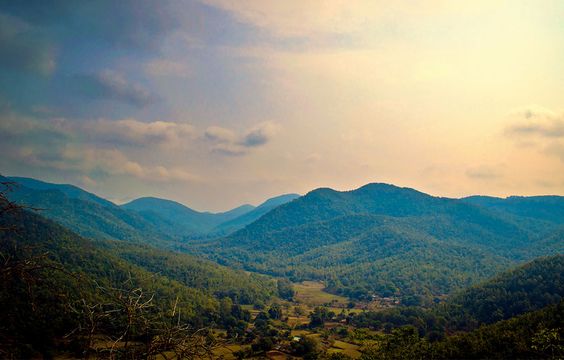 India is a beautiful country that has got it all. From pleasant beaches to mesmerizing hills, the country, India is full of surprises. Odisha, bordering the Bay of Bengal, is famous for tribal cultures as well as many divine Hindu temples. Odisha has so many things to serve except Puri beach and Konark.
Odisha is formerly known as Orissa. It is the 8th largest Indian state and the 11th largest by-population state located in Eastern India. It surrounds the states of West Bengal and Jharkhand to the north, Chhattisgarh to the west, and Andhra Pradesh to the south. Along the Bay of Bengal, the state of Odisha has a 485 km coastline. Odia is the language of Odisha, which is amongst the Classical Languages of India.
Odisha has a large number of breathtaking hill stations. Odisha serves a pleasant climate and soothing greenery. Its hill stations are a perfect tourist destination into the wilderness all through the year. These hill stations in Odisha have historical and religious significance. Hill stations in Odisha serve mental satisfaction and peace to mind. 
Famous Hill Stations in Odisha:
Daringbadi:
Daringbadi is a very beautiful hill station in Odisha, popularly known as 'The Kashmir of Odisha'. The marvelous hill station of Daringbadi happens to be a quaint hilly hamlet packed with green pine forests, dazzling waterfalls, and lush hills. Daringbadi is one of the magnificent hill stations in Odisha which has several captivating valleys and plateaus where the abundant coffee plantation is practiced. Tourists can experience activities like trekking and jungle safari. These activities make this place one of the adventurous hill stations in Odisha. Tourists also hike up the hill and lie down for birdwatching. A stunning sunset view from this region is really mesmerizing.
Mahendragiri:
Mahendragiri hill is considered the second-highest mountain peak in India. This one of the beautiful hill stations in Odisha has got a lot of popularity for its mythological and religious significance. The destination is exuberant with rolling meadows, lush green hills amidst the clouds, and plenty of wildlife and vegetation. All these things make this place a beautiful hill station in Odisha.
Taptapani:
This hill station is surrounded by dense lush forests and packed with an abundance of enchanting hills. Taptapani is among the top hill stations in Odisha as well as India. This magnificent place is popular among tourists for its beautiful hot spring, which is believed to have medicinal properties. Surrounded by various captivating hills, and surrounded by dense forests. Taptapani is one of the beautiful and best hill stations in India. Taptapani is well-known for its rich culture and unparalleled natural beauty.
Taptapani is a perfect place for peace seekers, nature lovers, and culture enthusiasts. Taptapani also attracts tourists through some excellent tribal dance and music performances.
Dumuriput Hills:
Dumuriput is situated at an approximate altitude of around 1000 mt, Dumuriput happens to be a pretty little hill town. Residing between Sunabeda and Koraput, this beautiful hill station edges with stretching lush valleys and hillocks. Dumuriput is also popular for its religious significance. The kneeling Hanuman statue on the hill is the tallest statue in the entire state. It has become a major attraction of this place. The Ram Navami festival of Hindus is also celebrated grandly, attracting millions of pilgrims from all over the country. It is one of the best hill stations in Odisha.
Deuli Hills:
Deuli Hills is a popular hill station all over the state and the country. Filled with an exorbitance of jaw-dropping rock-cut hills,  as an amazing historical site. This breathtaking hill destination has managed to beautifully preserve many captivating ruins of an abundance of ancient monuments. This age-old site houses some unique and pure laterite rocks. Blooming with excavation works and old remains, Deuli Hills is known as one of the historical hill stations in Odisha.
Deomali:
Situated at an altitude of 1,672 mt, Deomali Mountain is the highest peak for tourists to admire the natural beauty in Odisha. Surrounded by green forests, this place is popular for its amazing flora and fauna. This beautiful hill station is a paradise for adventure lovers. This place provides many thrilling sports like hang gliding, mountaineering, and trekking. Exuberant with picturesque hills and scenic Greenland patches, the destination is counted in one of the best hill stations in Odisha.
Devagiri Range:
Devagiri range is a stunning hilly getaway for the trekkers. This Range serves some wonderful surroundings of nature to explore. This is amongst the religious hill stations in Odisha. Having a popular shrine dedicated to Lord Shiva, the cave temple of this range has mythological and religious significance. The way leading to the cave temple is adventurous. This hill is located at an altitude of 394 ft, is shaped rectangular. 476 steps have to be climbed to reach the hilltop. After reaching the hilltop, you can admire the poles of water, named Ganga, Yamuna, Bhargavi, and Indradyumna.
Olasuni Hill:
Placed in the town of Kendrapara, Olasuni Hill is known among travelers for its deeply religious and mythological significance. Olasuni Hill has got a lot of popularity for its cultural activities. This hill station is famous as the abode of Goddess Olasuni. This place gets a huge number of pilgrims from all over the country. An important festival of Odisha, Magha Ekadasi is celebrated here grandly and forms the main attraction of this place. According to a mythological belief of the natives of Odisha, Olasuni Hills houses some traces of the Hindu epics Ramayana and Mahabharata. It is one of the best hill stations in Odisha.
Dhenkanal:
Dhenkanal is known as the ancient town of the state of Odisha. Dhenkanal is famous for its cultural copiousness and the beautiful mixture of religion and history. The city also entitled a rich historical influence. There is plenty of palaces and forts in this hilly town, which makes the place an abode for history. A huge area of Dhenkanal is filled with plenty of fauna and flora, dazzling waterfalls, and deep forests. Its beautiful nature attracts nature lovers, photographers, peace seekers, and couples to the place. It is one of the best hill stations in Odisha.
Chandragiri:
Located in Odisha's Gajapati district, Chandragiri is the stunning hill station. This hill station is popular for its Buddhist Monasteries and Tibetan civilization. This beautiful hill station of Odisha is popularly known as 'mini Tibet. This place is spiritually significant. All these beautiful elements of nature of this place attract nature lovers, adventurers, and nature lovers to this quaint hill station. This place is popular for activities such as trekking, forest exploration, etc. It is also the perfect place for photography. It is one of the best hill stations in Odisha.
Tensa Hill:
Tensa Hill is located at a distance of around 93.5 km from the 'Steel City' of Odisha and at a distance of 110 km from Rourkela. This hill station is nestled at an elevation of 3,700 mt above sea level. The huge area is neighboured by green meadows and hills all around the destination. This hill station is one of the top hill stations in Odisha. This exotic hilly town mostly attracts couples and honeymooners. It is also visited by nature lovers, young experience seekers, and photographers. Tensa Hill also a popular destination for picnickers and weekend trippers. 
Niyamgiri Hills:
Niyamgiri Hills is neighboured by deep forests. It is heaven for nature lovers. The hills are protected from civilization. It is the home to Dongria Kondh tribes. The hills are blissful with the bounty of nature, as you can praise the serene and rich flora and rich wildlife. This hill station is the best and beautiful hill station in Odisha.
[Also Read: Famous Tourist Places in Sikkim
                      Exotic and Glamorous wedding destination in India
                      Glorious Holi: Festival of Colour
                      Trip to Jim Corbett National Park