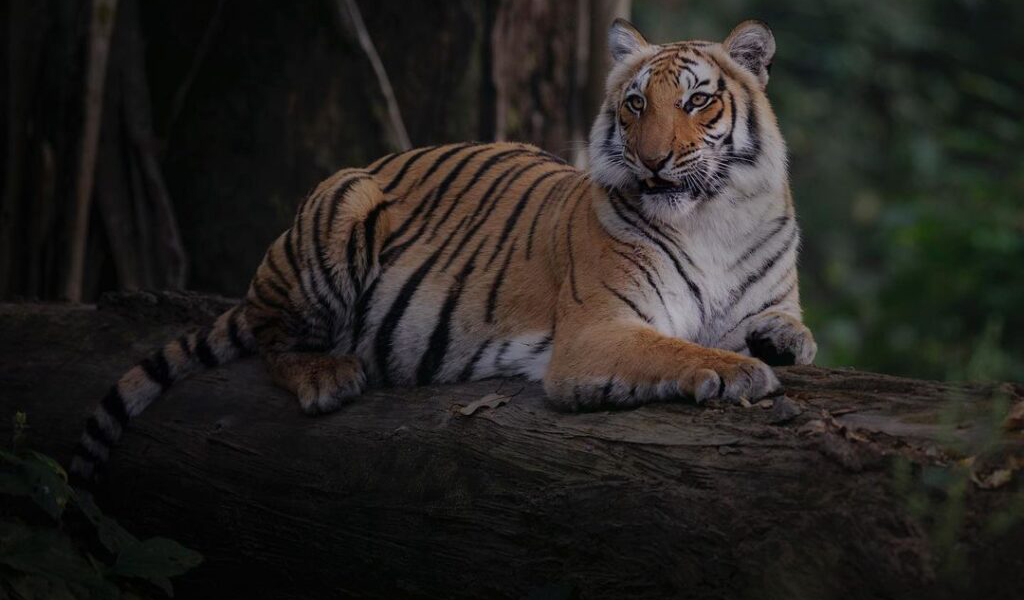 Jim Corbett National Park is the first national park in India. This National Park is situated in the Himalayas foothills. This famous wildlife sanctuary is placed Nainital district of Uttarakhand in 1936. Jim Corbett national park is a gem for all nature lovers and wildlife enthusiasts. Jim Corbett National Park is considered the oldest national park in India. It has the highest number of tigers. It was established as Hailey National Park. The historical project, Project Tiger was first launched in this national park in 1973 and make Jim Cormbett National park as a significant place of North India. It is spread over an area of 520 sq km.
The whole area of the national park comprises hills, swamps, riverine belts, grasslands, and a large lake. There are around 600 species of distinct plants, 600 species of birds, and more than 100 species of mammals and reptiles.
In Jim Corbett National Park animals like Royal Bengal Tiger, Leopard, Otter, Rhesus Macaque, Langur, Indian Hog Deer, spotted deer, Sambar Deer, Barking Deer, Nilgai, Asiatic Black Bear, Sloth Bear, Asian Elephants, Jackal and more can be seen.
Beautiful but dangerous reptiles such as crocodile, King Cobra, Russell's viper, Python, and the Monitor lizard, including beautiful fishes like Kalabasu, Mahaseer, Chilwa, Kalimuchi, and Goonch, etc.
Birds like Peacock, Jungle fowl, Dove, Drongo, Duck, Partridge, Khaleej pheasant, Woodpecker, Teal, cormorant, Stork, and Seagull, etc include rare birds like Hornbill and White-backed Vulture can be sighted.
The national park is surrounded by six different zones, namely, Bijrani, Jhirna, Durgadevi, Sitabani, Dhikala, including a newly introduced zone called Dhela. Apart from its wildlife, there are also adventure activities like River Rafting, Angling, Rock Climbing, Bridge Slithering, and Rappelling. There are also some temples like the famed Garjia Temple. Corbett Falls and Corbett Museum etc.
History of Jim Corbett National Park:
The famous Jim Corbett National Park is India's oldest national park. Jim Corbett National Park was founded in 1936 and formerly known as Hailey National Park. In 1930, this national park went through the process of boundary making under the guidance of a British-Indian hunter and tracker-turned-conservationist, namely Jim Corbett. Just after its establishment, the park prohibited the killing of animals including mammals, reptiles, and birds. The park was well maintained till the year 1930. But during the second world war, the park faced a major downfall due to excessive timber cutting and poaching.
In the year 1973, the Corbett National Park was marked for the historical tiger reservation project by the wildlife preservationist and naturalists from around the world during Prime Minister Indira Gandhi's tenure. It was started as Hailey National Park. Then it was changed to Ramganga National Park. In the year 1955-56, it was again renamed, Corbett National Park. The recent name of the national park – Corbett National Park was named after well-known author and wildlife conservationist, Jim Corbett, who had a key role in its establishment.
Flora:
Due to the huge number of water bodies and the favorable climatic conditions, the growth of different types of flora species is seen in this region.On one hand, there are non-flowering plants like ferns, lichens, mosses, etc, and on the other hand flowering plants like scarlet red flowers, exotic orchids, dodder, and several others. There are various types of grass and herbsin the national park like kansi, khus khus, baib, cyanthia, tiger grass, drymaria diandra, bhilmora, euphorbia hirta, clover, and others. The park also has a huge number of woody climbers like crypotepris buchanani, melletia auriculata, porana paniculata and others.
Various types of shrubs and bamboo plants can also be seen in the Jim Corbett National Park. On the other hand, date palm, jamun kanju, chir pine,, aamla, banj oak, semal, maddar, kanchnaar and dhak are some commonly founded tree species within the park.
Fauna:
The wildlife of the Jim Corbett National Park is including the Bengal Tiger, leopard, jungle cat, fishing cat, leopard cat, Indian elephants, buffalo, Himalayan Black Bear. Barking deer, Sambar deer, Hog deer, Chital, Sloth, Indian grey mongoose, yellow throat martens, Himalayan gorals, and others also be seen.
The Jim Corbett National Park has a large population of birds. Around 586 different species of Avifauna have been recorded within the park. Birds like Parakeet, Crested serpent eagle, Tawny fish owl, Bee-eaters,  Dove, Drongo, Duck, Partridge, Red jungle fowl, and several other migratory and local birds including rare birds like Hornbill and White-backed Vulture can be sighted.
A large number of reptiles like the Indian King Cobra, Russell's viper, python, crocodile, and gharial, along with amphibians, and fishes can also be found within the Jim Corbett National Park.
Popular Tourist attractions of Jim Corbett National Park:
Zones in Jim Corbett National Park:
Bijrani Zone:
Bijrani Zone is the perfect place for nature lovers to witness the different flora species of the park. It is placed at a distance of 1km from Ramnagar. It is very popular among wildlife lovers. It is considered a perfect place to spot rich wildlife species like tigers, elephants, chital, deer, and monkeys along with various bird species. 
Jhirna Zone:
Jhirna Zone is 16km from Ramnagar. This buffer zone is relatively newly introduced than all the other zones. This buffer zone is well connected with the city limits. Buses, taxis, and other means of communication are easily available. This zone is well known as one of the ideal spots to have an encounter with fascinating bears.
Durga Devi Zone:
The Durga Devi Zone is known for a significant number of avifauna species. This zone is a paradise for bird watchers. It shelters a large number of the marron orile, grey-headed eagle, crested laughing thrushor, black-chinned yuhina, and others.
Sitabani Buffer Zone:
This zone does not come under the boundaries of the Jim Corbett National Park. But this zone still attracts a huge number of nature lovers. Its pleasant ambiance, scenic beauty attract tourists.
Dhikala Zone:
Dhikala Zone is the largest zone of all the buffer zones. It is the hub for the tourists to the park. It is known for its plenty of variety of wildlife species like Bengal Tigers, Asian Elephants, chital, deer, crocodile, reptiles like the cobra, and birds like the dove, vulture, and several others. Night stay in this zone is highly demanded.
Dhela Zone:
This zone is one of the famed eco-tourism zones within the Jim Corbett National Park. It is situated at a distance of 13km from Ramnagar. This zone of Jim Corbett National Park attracts a huge number of nature lovers with its spectacular views of nature and a wide variety of wildlife.
Types of Safari:
Elephant Safari:
Elephant safari in Jim Corbett is a thrilling activity to do. To witness the dangerous dwellers of the Jim Corbett national park closely is an exciting experience. Elephant safari not only takes visitors to the closest encounter with the inhabitants of the jungles but also takes visitors to some of the core areas of the forest that is almost impossible to access.
Canter Safari:
Canter safari is conducted and operated only by forest officials. Canter safaris are another exciting experience to witness the wilderness of Jim Corbett National Park. Canter safaris are the perfect way to enjoy the wildlife for a larger group of visitors. The safaris last for around 5 hours. It takes the visitors to some of the most popular sites for wildlife spotting in open vehicles.
Jeep Safari:
Jeep Safari is the most popular safari among all the safaris in Jim Corbett National Park. It is conducted twice a day. These safaris take visitors to all the buffer zones of the park. These vehicles are smaller in size compared to the canters. So that it takes visitors to some of the core areas that are inaccessible by the canters.
Places to Visit near Jim Corbett:
Sitabani Forest Reserve:
Sitabani Forest Reserve is included in Jim Corbett National Park. It is located at a distance of 26 km from Jim Corbett National Park. But it attracts a good number of tourists. It is a paradise for bird lovers. Wild animals like tigers, elephants, leopards, and many more species can be seen. There is also an elephant safari or a jeep safari to enjoy in the reserve forest.
Kosi River:
Kosi River doesn't flow inside the National park. It is flowing 35km away from Jim Corbett National Park. Visitors visiting visit the river Kosi after visiting the park. Visitors come and enjoy fishing and angling in the river. At the time of the monsoon, the water of the river generated more current. Adventure seeker travelers visit this river to enjoy river rafting. Migratory birds around the world also come to this place and bring bird watchers to the place.
Garjia Temple:
This sacred temple is situated at a distance of 14km from Ramnagar. Garjia Temple, the sacred temple is placed in the middle of the gurgling water of the Kosi River. It has the Goddess Garjia Devi as the main deity. This temple is considered one of the most pious temples among the locals. Newly married couples climb a series of stairs to seek the blessings of the goddess of the temple.
Corbett Water Falls:
Corbett waterfalls are a wide stream of water, falling from 20 meters of height. The water of the pool is crystal clear, silvery, and unspoiled. Corbett Falls is flowing among the dense teak forest. It is an amazing view. This place is known for adventurous activities like camping, trekking, bird watching, nature walks, etc.
Corbett Museum:
Corbett Museum was once the house of the legendary hunter Jim Corbett. The museum has significant importance in the world of history and wildlife. There are caps, guns, letters, fishing nets, and several other personal belongings of Jim which attracts a lot of visitors.
Dhangari Museum:
Dhangari Museum is located near the Dhangari Gate. Hunted wild animals in the museum, heads of tigers, and elephants in glass boxes are seen in the museum. From a memento shop in the museum, visitors purchase wildlife generals, books, and autobiography on Corbett and wildlife safaris held in the park.
How to Reach Jim Corbett National Park:
By Train: 
There are so many trains are available between Delhi and Ramnagar. From Ramnagar, a taxi is easily available to Jim Corbett National Park. Trains to Ramnagar are also available from other major cities like Lucknow, Allahabad, and Varanasi. 
 By Road: 
Ramnagar is well connected to the major cities like Delhi, Bareilly, Haridwar, Ranikhet, Nainital, and Dehradun. Other places like Haldwani, Kashipur, and Kathgodam are also well connected to Ramnagar.
 By Air: 
Phoolbagh in Patnanagar is the nearest airport to Jim Corbett. The rental car is available from the airport to the park. 
[Also Read: Jatinga: Suicide Point of Birds]