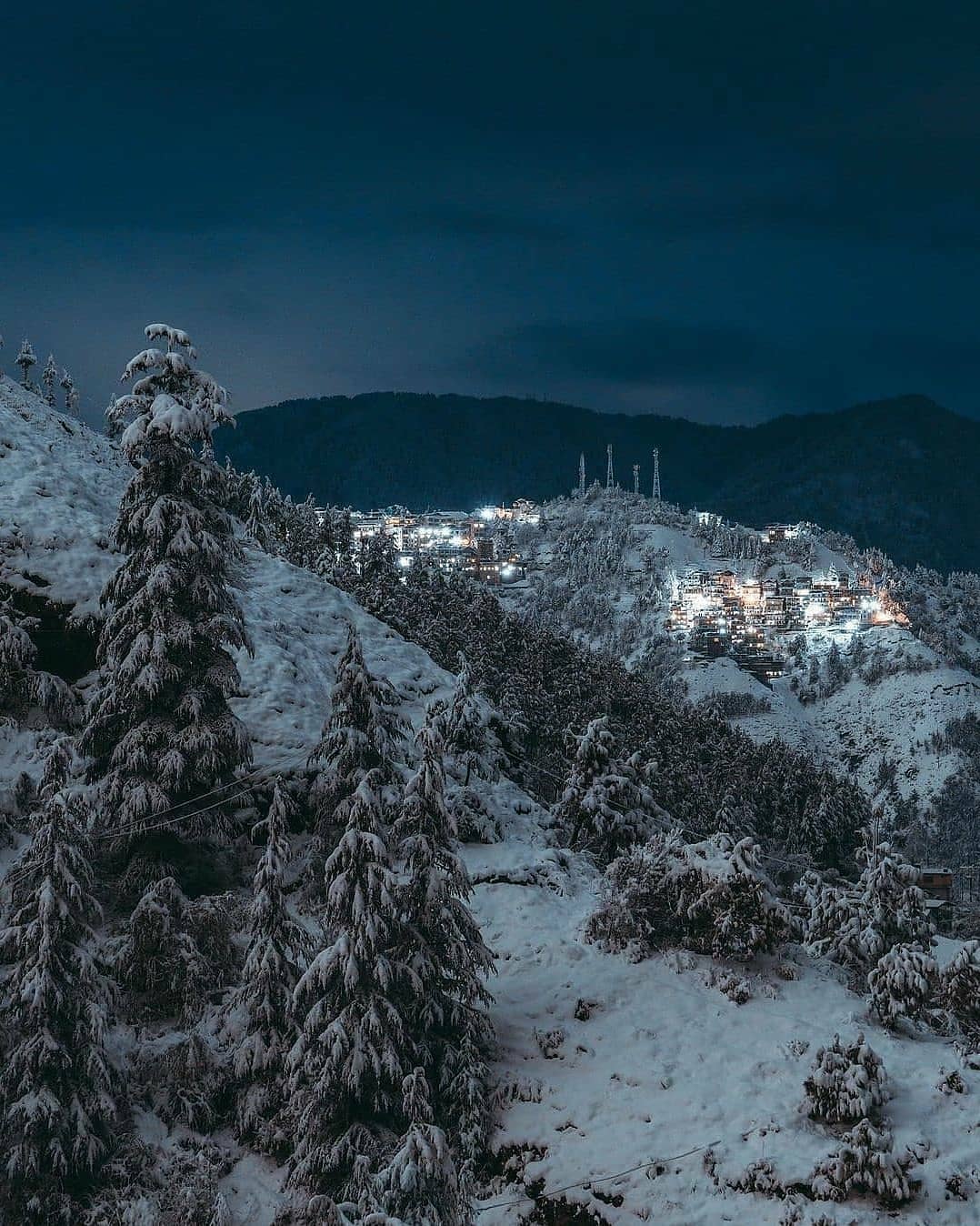 Shimla, the hill station, is the capital city of the state of Himachal Pradesh in India. It is a very popular hill-station among tourists, mostly in Indian families and honeymooners. This hill station is situated at an altitude of 2200m and it was once the summer capital of British India. Shimla got its name from Goddess Shyamala, an avatar of Goddess Kali who of power and wrath. This place is surrounded by nearby towns of Kufri. It is a hill-station, which is almost always filled with snow and Chail. This hill station is famous for a big palace and the highest cricket ground in the world. Travelers also visit the well-known Jakhu Temple and do sightseeing at various viewpoints.
This place is a perfect place for bird lovers, wildlife freaks, and nature photographers. The 'Himalayan Bird Park', 'Kiala Forest' and 'Shimla Reserve Forest Sanctuary' are some of the popular destinations to witness wildlife in the region. A Shimla trip can not be incompleted without a toy train ride, which runs from Shimla to Kalka and vice-versa. With 102 tunnels, this railway is constructed between 1898 to 1903. It has been declared as a heritage railway site by UNESCO.
Preferable Language:
English and Hindi are mostly spoken in Shimla. Panjabi is also spoken by few people of this region. There is some local Pahari language, which is generally spoken by the people of this region.
23 Famous Places to Visit in Shimla:
Kufri:
Kufri has situated at a distance of 10 km from Shimla. This beautiful town is famous mostly among honeymooners. The valley serves a wide variety of wildlife. It is placed at an altitude of 8607 ft. This place is also known as an adventure hub because of offering facilities and training for some sports like ice skating and skiing. That is why it is also called the winter sports capital of India. The famous and attractive activity of Kufri is the donkey or mule ride to the Mahasu peak, the tallest peak. Every winter, Kufri experiences regular snowfall.
The Ridge:
The Ridge is a huge and main street of Shimla, located aside from Shimla Mall Road. The Ridge is not only the marketplace but also the social center of the city. This place is crowded with locals and nature enthusiasts travelers. The road is surrounded by cafes, boutiques, bars, shops, and restaurants, which attracts a huge number of crowds. It runs and connects Mall Road and the famous Scandal Point. 
Mall Road:
The Mall Road, Simla is the main street of the city. It is nestled in the heart of the town. This street is lined up with restaurants, shops, clubs, banks, post offices, and tourist offices. It is one of the busiest and more commercial areas of Shimla. The shops of Mall Road are known for their woolen clothes. Except for emergency ones, Vehicles are not allowed on this street. So Mall Road in Shimla is an ideal place to roam around in the evenings. 
The Scandal Point:
The Scandal Point in Shimla is a major attraction of this hill station. It is placed between the mall road and the ridge. This point is situated in the middle of the two busiest spots of Shimla. It is said that in the location, Maharaja of Patiala, Bhupinder Singh, and the daughter of a British Viceroy had eloped together. In this [place, there is a statue of a freedom fighter- Sri Lala Lajpat Raiji. 
Jakhoo Hill and Temple:
Jakhoo Hill is regarded as the highest point in Shimla. This place is filled with beautiful alpine trees. It provides stunning views of the snow-covered Shivalik Ranges as well as the sister town of Sanjauli. Jakhoo Hill is located at an altitude of 8000 ft. above sea level.
Dedicating to the Hindu monkey god – Hanuman, The Jakhoo Temple is built. There is the world's largest Hanuman statue in the Jakhoo temple. This statue is visible from almost all parts of Shimla. Jakhoo Temple is surrounded by the thick of beautiful Deodar trees and it is famous for an abundant monkey population. It serves as a tribute to the Hanuman. It is situated around 2 km from the Ridge in Shimla's center.
Green Valley:
The Green Valley is a beautiful valley that falls on the way to Kufri from Shimla. Among all the snow-covered mountains and it is a piece of lush green forests of pine and deodar. It is a serene and peaceful Green Valley where one can witness nature in all its grandeur. It is famous and one of the best honeymoon destinations in Simla.
Himalayan Bird Park:
Himalayan Bird Park is an attractive and must-visit place for Shimla tours. Himalayan Bird Park in Shimla is home to rare and exotic birdlife. A variety of exotic and native birds are seen here. Himalayan Bird Park is a perfect destination for nature lovers and bird lovers. Only in the summer season, it is opened for tourists. Because this place gets filled in snow during the winter season. The collection of birds of pheasants, peacocks, and peafowl attract bird watchers and wildlife photographers.
Shimla Reserve Forest Sanctuary:
Shimla Reserve Forest Sanctuary is famous for its rare variety of wildlife. This wildlife Sanctuary is an attractive place for all wildlife enthusiasts. Animals such as barking deer, jackals, monkeys, and leopards are seen here.
The famous Jammu and Kashmir's Pir Panjal range can also be sighted from here. This is a trekking point.
Majathal Sanctuary:
Manjathal Sanctuary is a famous tourist destination in Shimla. It is known for its rich variants of fauna and flora. This sanctuary is spread across 55,670 sq km. this wildlife sanctuary is a forested area. So many threatened species can be found in this sanctuary, like the Cheer Pheasant. Animals like Gorals, Goats, and many unique varieties of birds can be found in this sanctuary. Manjathal Sanctuary is a haven for wildlife enthusiasts. There are no resorts or hotels in this region to preserve the natural beauty of the place.
Himalayan Nature Park:
The Himalayan Nature Park is well-known and one of the favorite tourist spots in Shimla. Most of the Himalayan Park sections are turned into sanctuaries, national parks, and reserves for the rich fauna and flora. This park is the habitat of various endangered and rare species of flora and fauna of this region. Species like snow leopards, Barking deer, Goral, Sambar, Himalayan tahr, Brown beer, Black beer, Leopard cat, Leopard, Monal, Kalij, Silver pheasant, Red Jungle fowl, Cheer pheasant, Western tragopan, Grey Bhutan peacock, Himalayan Griffon vulture, Lady Amherst pheasant, Golden pheasant, and musk deer can be sighted. This park is also named Kurfi Zoo.
Kalka Shimla Toy Train:
Way of the Kalka to Shimla toy train is the best to experience ever amongst vast green hills and deodar and pine forests. It is famous for the beautiful views of the hills and valleys and villages. UNESCO has declared this railway route as a World Heritage site. There are 20 stations, 800 bridges, 103 tunnels, and about 900 curves in the route of this toy train. It runs around 95 km. It provides some amazing scenic views for a lifetime.
Chadwick Falls:
Chadwick Falls is situated in the Glen Forests. This stream of water jumping from a height of around 100 mt. It's a trekking point and serves as an amazing view of lush forests, beautiful hills, and the waterfall. The stream got its name Chadwick from 'Chidku Jhaar'. 'Chidku' means sparrow and 'Jhaar' means waterfall in the local language. It was named so because according to the local people only sparrows could reach the top of the waterfall. 
Tara Devi Temple:
Tara Devi temple is one of the famous religious destinations to visit in Shimla. It is located at a distance of 20 minutes drive from Shimla through the Kalka-Shimla highway. This temple is dedicated to the Tibetan Buddhists Goddess Tara. Goddess Tara is believed to be one of the nine sisters of Goddess Durga. The deity of the temple is wooden. It is believed to be brought by the Sen Dynasty from West Bengal.
The Kali Bari Temple:
Dedicating to Goddess Kali, Kali Bari, Temple, an ancient temple of Shimla was built in 1845. This temple is placed at a distance of 20 minutes drive from Shimla on the Kalka-Shimla highway. The structure of the goddess houses a captivating idol of Goddess Kali beautifully adorned with jewelry and colorful flowers. This temple is placed in Shimla, very close to the Shimla City Mall. Locals termed Goddess Kali as Goddess Shyamala from which the name of the city, Shimla, was derived. A large number of pilgrims visit the Kali Bari Temple.
Christ Church:
The Christ Church in Shimla is considered the second oldest church in north India. This church is a perfect example of architectural beauty. The church took 11 long years to be finished and stands to remind the time of the British colonization in India. Inspired by the neo-gothic style of architecture, The Shimla Christ Church is completed. The Christ Church has a serene environment.
Johnnie's Wax Museum:
Johnnie's Wax Museum, Shimla is the first wax museum of Himachal Pradesh. It is an attractive spot for children and family vacationers in Shimla. This wax museum houses wax replicas of many famous movie stars and important personalities of India and the rest of the world. There are replicas of Mahatma Gandhi, Harry Potter, Steve Jobs, James Bond, Iron man, and so on in the museum. 
Annandale:
Annandale is a famous flat terrain in Shimla that has been developed as the playground of the city. The ground is used to play several sports, like, cricket, Golf, and Polo, etc. Picnics too are organized at this point. Annandale is a major attraction in Shimla. It has also a cactus museum and an Indian Army museum. Annandale is also a popular picnic spot for the local people. It is mostly visited by tourists during the summer season as the weather stays cool and pleasant. This point is famous since British rule. Britishers often played sports like racing, cricket, and polo, etc. The playground is generally used for events organized by the Indian Army and also as a helipad. 
Chail:
Chail is a hill station, lies at a distance of 63 km from Shimla. It is placed in the Shivalik region of Himachal Pradesh. Chail is spread over the canyon of River Satluj, an area covering 72 acres of land and across the three hillocks – Sadh Tiba, Pandewa, and Rajgarh. Chail, Shimla, and Kufri are also known as the Golden Triangle of Himachal Pradesh. Chail is well-known for the world's highest cricket ground and the heritage hotel, Chail Palace, in the dense, green pine and deodar trees. Chail is covered with lush greenery and stunning views. This point is known as a hiker's paradise.
Fagu:
Fagu is a peaceful and tiny hamlet that is covered with snow. It is situated at an altitude of 2500 meters. Fagu is a perfect place to spend time by staying far from the hustle-bustle of the city. It is supposed to be Fagu has got its name from the word 'fog'. Being lied at that altitude, this place is always covered by fog, and hence, was named Fagu.
Fagu is filled with rich wildlife. Animals such as yaks, snow leopards, and ponies can be seen. All of them are inhabitants of Fagu. The place is surrounded by dense green pine and cedar forest. Some apple trees are also placed here, which are filled with rich red apples. Potato Fields are very common to spot.
Kasauli:
Kasauli is a tiny hilly cantonment town in the southwestern part of Himachal, in the Solan district. Kasauli is a serene town, is situated on the relatively lower edges of the Himalayas. Kasauli picturesque home to beautiful colonial houses built by the Britishers, amazing orchards, and the splendid Christ Church. The hill town is surrounded by pine and cedar trees. Kasauli is a trekking point.
Narkanda:
Narkanda is a quaint little hilly town which is situated 60 KM along the highway running from Shimla to Kinnaur. It is placed at an altitude of 8100 ft. Narkanda is popular for skiing activity in the time of winter. This hilly town attracts travelers for its splendid natural beauty and its beautiful apple gardens. This town is enveloped by tropical forests and majestic hills. There is a lake called the Tannu Jabar Lake and a temple near the lake in Narkanda. There is a hill, namely Hatu Nag, which is a trekking point in Narkanda. This hill station provides a splendid view of nature.
Solan:
Solan is a beautiful hilly city. Solan is a more low-key travel destination ideal for those travelers who are seeking a comparatively offbeat destination. Solan is called the 'mushroom capital of India'. Solan is also known as the city of red gold because of its production of bulk quantities of tomatoes. Solan has plenty of ancient temples and monasteries. It also has one of the oldest breweries in the country and a 300-year old fort placed at the hill-top which is in ruin condition. 
Mashobra:
Mashobra is one of the most offbeat destinations to visit in Shimla. Mashobra is a paradise for nature lovers. Mashobra is covered with a lush green expanse. It is placed at an altitude of 7700 feet. This place is surrounded by misty hills, cedar, pine, and oak trees, and a dazzling stream gushing down the valleys.
[Also Read: 15 Beaches in Andaman and Nicobar islands]