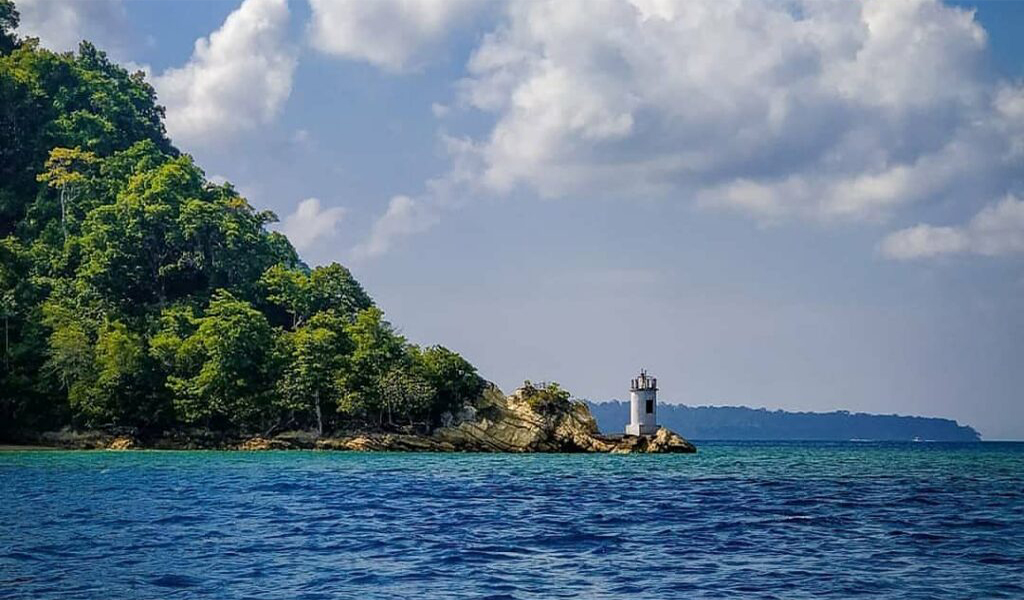 Andaman and Nicobar Islands, formerly called Kalapani, is one of the most beautiful and serene places in India. Andaman and Nicobar Islands serve palm-adorn beaches with spotless stretches of white sands, an uninterrupted presence of peace, and crystal clear turquoise waters – Andaman and Nicobar Islands is something that we call 'Tropical Paradise'. There is a total of 572 islands, out of which only 50 are inhabited by people. The rest of them are either too small, come under forest reserve, or used by the Indian army as their base.
The sparkling blue waters, smooth silky sands, beautiful cottages, huts and shacks, and exciting water sports activities, all things, make these beaches, an experience worth admiring in itself. There is a long list of paradisiacal beaches and the lovely environment that make Andaman and Nicobar one of the most beautiful honeymoon destinations in Asia. 
Most of the beaches in Andaman have shallow coral reefs brimming with aquatic flora and fauna, which makes them an ideal destination for underwater activities, such as sea walking, snorkeling, and scuba diving, etc. Most of the islands of Andaman and Nicobar Islands are serve as some of the finest spots for scuba diving. Andaman and Nicobar islands are also widely applauded for the wide range of water sports. The spectrum of water sports in Andaman and Nicobar Islands serves a huge number of different kinds of experiences. From most of the easy activities like beach strolling, swimming, and cruising to thrilling experiences like speed boating, parasailing, and scuba diving, etc.
Andaman and Nicobar Islands must be visited once, especially as a honeymoon tour that includes tours of virgin beaches so that couples can soak in the beauty of nature and love in seclusion. Adoring various shades of sky, enjoying a romantic candlelight dinner on the beach, and a lovely and soothing cruise ride in the seemingly endless Bay of Bengal – there is a treasure of romantic activities to do. 
19 Stunning and Beautiful Beaches in Andaman and Nicobar Islands:
Radhanagar beach:
Radhanagar beach is ranked and awarded with the title of 'Asia's Best Beach' and '7th best beach' in the world by the Times Magazine in 2004. Radhanagar Beach is placed on Havelock Island. With its turquoise blue waters and smooth white sands, it serves a stunning view. Radhanagar beach is the most visited place in Andaman and Nicobar Islands. Radhanagar is spread across 2 km in length and a width of 30 to 40 m. It is famous for its stunning view of the sunset, white sand, and turquoise blue waters. 
Elephant Beach:
Elephant Beach is one of the well-known beaches of Havelock Island. The white sand and the blue-green water at the Elephant beach are very attractive. Elephant Beach has located 65 km from Port Blair Bus Stand and 10 km from Havelock Ferry Ghat. This beach has a rich coral reef formation and amazing marine life. These waters are a perfect destination for tourists wishing to engage in water sports like snorkeling, swimming, and diving, etc.
Kala Pathar Beach:
Kalapathar beach is white silky sand, a long stretched beach, is lined with black rocks beside the blue sea. Although it is a small beach, it is another attraction in the Havelock Islands in the Andaman. It is an extremely serene beach, covered with interrupted peace. Its silvery sand and aqua green waters make the place one of the most beautiful and uniquely outlandish Andaman and Nicobar Islands beaches. Kalapathar Beach of Havelock Islands is named after a Black Road which runs parallel to the seashore. Being a comparatively isolated and protected beach, Kalapathar has not the usual shacks and resorts.
Vijaynagar Beach:
Vijaynagar Beach is a famous beach on Havelock Island. It is most-visited for beach exploration, bird watching, fishing, trekking, and thrilling water sports like snorkeling, surfing, sailing, and swimming. It is also famous as Beach No 5. The water of this beach is shallow and clean. This beach is a perfect place for surfing and swimming. It is a perfect place for swimming and surfing. It serves an amazing scenic beauty with azure blue waters and blue sky.
Wandoor Beach:
Wandoor beach is a famous and most-visited beach of Andaman and Nicobar Islands. The beautiful Wandoor shoreline is arranged at Mahatma Gandhi Marine National Park, which is the richest marine biodiversity. It is around 30 km from Port Blair. Another unique thing about Wandoor island is, two islands named Alexandra Island and Red Skin Island are near to the beach. It is a marine paradise for nature lovers, especially for photographers. The unique location of this beach makes it an ideal place to swim as well as to enjoy the sight of coral reefs. One can also enjoy the clear blue waters and spotless white sand.
Corbyn's Cove:
Corbyn's Cove beach, Andaman is the nearest beach to Port Blair. It is quite popular among local people and domestic and foreign tourists. the Corbyn's Cove is a peaceful and soft sandy beach. It is placed with the backdrop of flourishing green coconut trees and the majestic sea. Corbyn's Cove Beach is a popular place for the ones who want to experience nature and want to explore the beauty of the Andaman and Nicobar Islands.
Corbyn's Cove Beach, Andaman was named after well-known Henry Fisher Corbyn. It is an ideal spot for sun basking and swimming. The beach is known for its activities, like glass-bottomed cruises, scuba diving, and snorkeling, which is very attractive for adventure enthusiasts. In the tsunami of 2004, a major part of this beach was destroyed.

Sandbar Beach between Ross & Smith Islands:
Smith & Ross Island in Andamans are the twin islands. Sandbar Beach is a long stretch of sand that connects those two islands. The amazing view created by the dense green forest of those islands and the stretch of white sand is characteristically unique to the location. Thus it attracts several tourists to witness its charm.
Little Andaman Beach:
Little Andaman Beach is another beach that is a must-visit beach in Andaman and Nicobar. Little Andaman is located opposite the Great Andaman Island, at the southern end of the Andaman & Nicobar Islands. Little Andaman Beach is considered the largest beach in the whole of Andaman. It is famous for Surf waterfall and whisper wave waterfall.
Laxmanpur Beach:
Laxmanpur Beach is a beautiful white shell sand beach and perfect for swimming and sunbathing. Laxmanpur Beach is located at Laxmanpur Village of Neil Island in Andaman and Nicobar Islands. This beach ranks the 3rd best beach in Andaman and Nicobar islands. The attractive factor of this beach is its closeness to Neil Island boat jetty, which is about 2 km away. The plenty of corals and shells make this beach unique and highly preferred among the visitors.
Bharatpur Beach:
Bharatpur Beach is an amazing shoreline, situated a distance of half km from the jetty at Neil Island. It is famous for its ancient white sands and clear blue waters. The beach has shallow water with coral reefs. These make the beach a popular and ideal spot for water sports, such as snorkeling, scuba diving, and glass-bottom rides, etc. It is also a famous shore for sunbathing.
Sitapur Beach:
Sitapur Beach is also popular as Beach number 5. It is a beautiful stretching golden sand beach on Neil Island. It serves a stunning view of azure blue sky and turquoise ocean. Sitapur Beach is an unusual and unspoiled beach. It is exposed to the open sea and thus known for higher tides. This shore is also known as the 'Sunrise Beach', as this beach offers stunning sunrise views early in the morning.
Guitar Island Beach:
There are numerous islands in Andaman and Nicobar Islands. Some of them are unique. Guitar island is one of them. Guitar Island is as beautiful and rewarding a destination as one can be. But it is an uninhabited island of Andaman and Nicobar Islands. With brilliant blue water all around and tropical greens inside, this island is a hidden beach paradise. The small land of green in the azure blue of the Indian Ocean is named after its shape. This island looks exactly like a guitar from up there. It is a famous destination for those people who seek an offbeat and unique destination.
Kalipur Beach:
Kalipur Beach is a beautiful and one of the most popular beaches in Diglipur, which is the largest town of North the Andaman and Nicobar Islands. Kalipur beach. The beautiful beach offers stunning views of Saddle Peak and the sea with an endless number of turtles. Kalipur beach is also a famous picnic spot among locals and domestic and foreign tourists. Snorkeling or witness turtle nesting is the famous activity of this beach.
A huge number of Olive Ridley, Hawksbill, Green turtles, and Leather Black turtles lay their eggs in Kalipur Beach. They even can be seen nesting during the time of winter. These are magical and fascinating views to watch, and they will be spotted crawling their way in the soft sand.
Merk Bay beach:
Merk Bay beach is situated in the North Passage Island of Andaman and Nicobar Islands. The sunset views from this beach are really stunning. The combination of turquoise waters and the blue sky of this beach is amazing. A popular activity, like Boat safari, is a famous activity of this including marine life spotting such as dolphins.
Raman Bageecha Beach:
Raman Bageecha Beach is a solitary beach, situated near the Rangat Jetty, Andaman Island. It is not a crowded beach. Very few tourists visit this beach of Andaman and Nicobar islands. This beach provides a beautiful view of Sunrise. Raman Bageecha Beach is a serene beach that no a not interrupted peace surroundings.
Amkunj Beach:
Amkunj Beach is considered an eco-friendly beach. Grey and fine sands and greyish waters make this spot amazing, quite attractive, and eye-catching. This beach provides a stunning view of Sunsets and sunrises. On the Amkunj beach, there are a lot of pebbles and rocks are found. These pebbles and rocks make this beach hard for scuba diving and snorkeling. But this beach is known as the nesting ground for the sea turtles.
Lalaji Bay Beach:
Lalaji Bay Beach is situated on Long Island. It is a must-visit destination in Andaman and Nicobar Islands. This beach is the ideal destination to take a break from hectic daily life. The combination of white sands and the crystal clear water serves as an amazing picture of the nature of Lalaji Bay Beach. 
Karmatang Beach:
Karmatang Beach is also popular as the 'Turtle Paradise' of Andaman. The beach is situated near Mayabunder. Another name for Karmatang Beach is the 'turtle nation'. A lot of turtles on the beach can be seen who have either come to lay eggs or hatched from the laid eggs. Karmatang beach has a serene environment and stunning scenic views, make it one of the most attractive and beautiful places in the Andaman and Nicobar islands. 
Butler Bay Beach:
Butler Bay Beach is situated in Little Andaman. The beautiful combination of yellow sand and crystal clear waters makes this beach beautiful. It was once the most popular beach destination in the Andaman and Nicobar Islands. After the tsunami in 2004, the beach has been destroyed and has become isolated. But after this tragedy also this beach could not be lost its charm. It is still holding the title of the best surfing spot in India.
[ Also Read: 11 Beaches in Goa ]