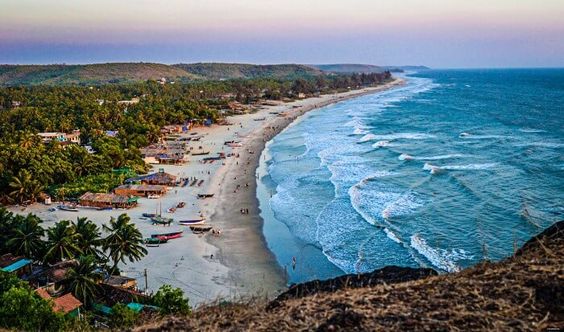 Goa is the Coast paradise of  West India. Goa has a beautiful coastline and sunkissed beach. It attracts a huge number of tourists not only from India, from all over the world. Based on location, the beaches of Goa are divided into two regions; North Goa beaches and South Goa beaches. 

Goa is known for its unique white silver sand. This unique feature has made Goa more special and marvelous. With 105 km of sea beaches, Goa is a perfect place for holiday destinations. It is most famous as a honeymoon destination. Its serene and picturesque atmosphere attracts all kinds of travelers.

Before you make a plan for Goa, here is some sort of description about some famous beaches of Goa.
11 Beaches in Goa:
Beaches of Goa are attractive and holds stunning panoramic. Goa has a unique charm which we must see once.  Here are some top and best beaches in Goa:
1. Baga Beach: 
Baga Beach is the most famous and visited beach in Goa. This dazzling beach of Goa is located in North Goa, close to Calangute beach, around 30 Km North of Panjim. This is one of the best beaches in Goa.
Baga is so termed after the 'Baga creek'. Baga Beach is famous for its delicious seafood, crank music designer shops, and adventure sports. Baga is called "The Hometown of Nightlife" for its crazy and loud music celebration by late-night. Baga is the perfect place to witness the splendid nightlife of Goa as signature places such as Britto's, Tito's, and Mambos are placed near this place. It is also a famous place as a honeymoon destination.
2. Calangute Beach: 
Calangute Beach of North Goa is the longest beach in Goa. It is known as the "Queen of Beaches". Calangute beach is the center of attraction of Goa. It's a popular beach for Indians as well as foreigners. It's a famous place for all travel lovers on a low budget. The palm and coconut tree in the seashore has made the scenery beautiful.
Calangute beach is one of the busiest as well as commercial beaches in north Goa. It floats in the ocean of entertainment with late-night parties, music, beer, cocktails,  and delicious foods. This beach is also famous for its water sports activities like parasailing,  banana ride, water surfing, and jet-skiing.
There are some vibrant markets, which are very famous to backpackers.  From beer and food to junk jewelry, clothes, trinkets, everything is available in these markets. This is one of the best beaches in Goa.
3. Candolim Beach: 
Candolim is a famous beach in North Goa, placed around 15 km ahead of Panjim. It is a part of the famous Goan trio of Baga, Calangute, and Candolim beaches.  Candolim Beach is a beautiful soft sandy beach.
Candolim Beach of Goa was the first place to have adopted Christianity under the Portuguese. Many foreigners visit the place because though, it's a popular beach, but less crowded than other beaches of Goa. The dazzling nightlife and parties attract domestic visitors too.
It is one of the most attractive and famous beaches of Goa because of its water sports or other activities like bumpy banana rides, parasailing, boat ride, snorkeling,  jet-skiing, and even scuba diving. This is one of the best beaches in Goa.
4. Vagator Beach: 
Vagator beach is among the most attractive and charming beaches of north Goa. It a very famous beach, especially for foreigners. It's situated near Chapora Fort, 22 km from the capital of Goa, Panaji. The beach is a soft white sand beach and contrasted with black rocks.
This beach is divided into two parts. The first one is the big Vagator, and the second one is the little Vagator, namely  Ozran Beach. Vagator Beach is famous for its stunning panoramic views, beach shacks, and trance parties. The very famous Sunburn Festival has been moved to this beautiful place. This is one of the best beaches in Goa.
5. Palolem Beach:
Palolem beach is one of the beautiful and popular beaches of South Goa. It is a very peaceful and calm beach. Water and waves of the sea are not that rough here. It is a Paradise with white soft sand beaches. This is one of the best beaches in Goa.
There are also lots of activities on this beautiful beach, such as scuba diving, canoeing, backwater cruising, trekking, and partying, etc. Dolphin spotting cruise is the highlight of Palolem beach.
6. Arambol Beach:
Arambol Beach is one of the popular and attractive beaches of Goa. This beach is newly developed and a part of fisherman's village. This beach has a distinctive bohemian vibe, which attracts foreigners of all nationalities to it. This beach is rocky, which is another unique feature of this beach.
The beach is used as a venue for barbeque events or sunset parties. The beach is very clear due to few visitors. The sand of this beach is white and clear. Arambol Beach also hosts two of the most famous and important cultural events of Goa- the Tribal Dance Festival and the Indian Juggling Convention. This is one of the best beaches in Goa.
This beach is mostly famous for its easy accessibility. It's easy to find this beach on google navigation. But swimming is prohibited in some areas of this beach. Make sure you are in a safe area to avoid any unpleasant incident.
7. Morjim Beach:
Morjim Beach is one of the calmest beaches of North Goa. It is placed a little south of Aswem beach, 28 km from the capital city Panaji. It is known as a nesting habitat for Olive Ridley Turtles.
Changing colors of the sky and setting of the sun creates a different kind of scenic beauty, which is absolutely stunning. Morjim beach is also popular as 'Little Russia' as a significant number of settlements of Russian inhabitants. A huge number of Russian come to this place and inhabit that point for more than one month. This is one of the best beaches in Goa.
8. Anjuna Beach:
Anjuna Beach is one of the most attractive beaches of north Goa. It is the paradise of Goa for visitors. Blue sea water and white sand create an amazing view of nature. The stunning view of sunrise and sunset mostly attracts backpackers and among the top and best beaches in Goa.
Anjuna beach is a "multidimensional entertainment hub" of Goa's local. In the '60s, Anjuna was the hub of hippies and still, now it has the same vibe. This is one of the best beaches in Goa.
9. Benaulim Beach:
Benaulim Beach is an amazing beach in Goa, which is one of the best beaches for families. It has a calm environment which is absolutely perfect for relaxation. It is situated just south of Colva beach. This is the best place for those tourists who are not into the parties of Goa.
But this beach is overlooked by tourists, especially domestic tourists. It is famous for fishing. This serene beach is especially attractive to youngsters who love to collect seashells and build sandcastles. This beach gives the opportunity to plenty of water sports such as Jet Ski rentals, Parasailing and Dolphin-spotting excursions, etc. This is one of the best beaches in Goa.
10. Colva Beach:
Colva beach is among the famous beach of Goa. Its length is around 2.5 km. It is among the most visited beach in Goa. It is known for its powdery white sand which is a unique and significant character for this beach. The coconut tree flank on its coastline added an amazing beauty in the scenario of this beach.
It is also popular for its attractive water sports like paragliding, speed boat ride, snorkeling, jet-skiing,  etc. It is also famous to tourists because of its marvelous sunset view and calming blue waves which added extra beauty to it. At night it has also all the spices for party lovers.
For all kinds of travelers, it's the most lovable beach. This is one of the best beaches in Goa.
11. Sinquerim Beach:
Sinquerim beach is one of the most famous beaches in North Goa. It is very famous for water sports. There is water skiing, scuba diving, international class facilities for parasailing, windsurfing and fishing, etc kind of water sports on Sinquerim beach. It is south of some famous beaches of Goa like Baga beach, Calangute beach, etc; And also very near to the famous Aguada fort. This is one of the best beaches in Goa.
Sinquerim Beach has a stunning landscape just like a drawing of a great artist. It has a stunning combination of Golden sands, green palm trees, and blue waves. The serene view of sunset also a tourist attraction of Sinquerim Beach. There are also many luxurious hotels around this beach and all advantages of beach parties and luxury packages. It not only holds a serene beauty, but it's also a charming beach and a perfect holiday destination and among the top and best beaches in Goa.
Best Time to Visit Beaches In Goa:
Goa has a unique charm in every season but the best time is from October to February. This is the best time for the cozy weather. The weather is neither hot nor too cold at this time.
The monsoon is not preferable for everyone. But there is lush greenery all around because of rain. So some tourists prefer this season.
But the summer is not advisable because it's too hot and the existence of too much humidity in the air.
Conclusion:
It is very important to take a break from the hectic schedule of life. In this matter, India has plenty of options.  Like Beaches, hills, forts, historical places, India has a diversity of holiday destinations. Short to long trip, group to solo travel, family time to honeymoon destination you will find places for everything, that you can visit some top and best beaches in Goa.
Goa is surely on the top of the list of travel destinations. Although it is one of the smallest states of India, it has a unique charm. Goa has some of the most amazing beaches on the Indian continent. Goa is popular for its amazing beauty of beaches, nightlife and parties, delicious seafood, and historical structures. Goa attracts a significant number of foreign and domestic visitors and is one of the most visited places in India.
If you are a travel lover and need a break from your busy schedule, you must visit the magical place of the Indian subcontinent, Goa once.
[ Also Read: Bhangarh Fort: The Most Haunted Place ]