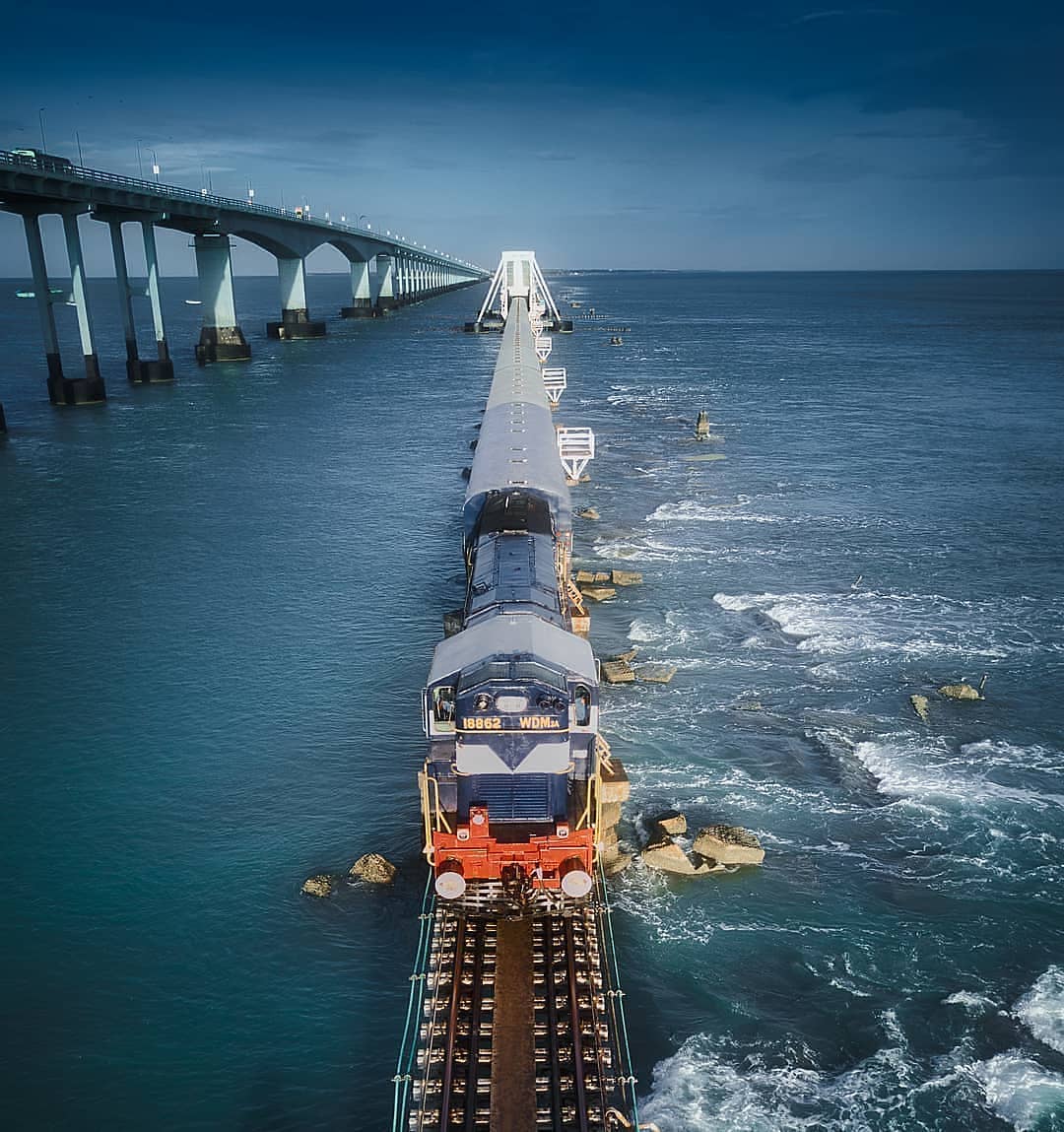 The pious city, Rameswaram is situated in the Ramanathapuram of Tamilnadu. It is placed on the sea region of "Gulf of Mannar Biosphere Reserves". It is relatively small in terms of the area. This place is separated from mainland India by the Pamban Channel. This pilgrimage tourist spot has been the center of attraction for Hindu pilgrims from all over the world.

The spiritual city Rameswaram is standing alone between India and Sri Lanka in the middle of the sea. This city is one of the Char Dhams of India, which are well-known places for Hindus and leading to a major inrush of pilgrims in Rameswaram. This pilgrimage site is known for its gorgeous Hindu temples. It is a tiny fishing town. This part of Tamil Nadu is bloomed with unrivaled underwater natural wonders, picturesque beaches, a sanctuary for birds, and so on.
Places to Visit in Rameswaram

:
Iconic Temples of Rameswaram:
 Sri Ramanathaswamy Temple:
Sri Ramanathaswamy Temple or Rameswaram Mandir is among those few temples in the history of India, which is built in the Dravidian style architecture, built in the 17th century. This temple is one of the twelve Jyotirlinga Temples, which is dedicated to Lord Shiva. The Lingas of the temple are formed with various materials like stone, sand, salt, etc. Sri Ramanathaswamy Temple has placed a distance of 2 km from the Rameswaram Railway Station.
It is believed that the temple has been built by Lord Rama. Since then, it has gained a respected place in Indian mythological references. The temple is believed to have around 112 ponds, out of which only 12 are left. Ramanathaswamy temple has the longest and largest pillared corridors in the world.
Kothandaramaswamy Temple:
Kothandaramaswamy Temple, an approximately 500-years-old temple, is situated in Dhanushkodi.  Kothandaramaswamy Temple is yet another popular pilgrimage destination in Rameswaram. This amazingly decorated temple is surrounded by lovely beaches, ancient ruins, and vast horizons of the deep blue sea.
The temple appears as a perfect place to trace the footprints of Rama. It is believed that Shri Rama did the crowning of Vibhishan in this place. There are the idols of Lord Rama, Maa Sita, and Laxman, along with Vibhishan, in this temple. The temple paintings of the walls of the temple depict the same story. This is a ruin of the temple described in the Hindu epic Ramayana.
Five Faced Hanuman Temple:
Five faced Hanuman temple is situated about 2 km from Ramanathaswamy Temple. It is known as Panchmukhi Hanuman Temple. Dedicating to Lord Hanuman, this temple is constructed and famous for the manifestation of Hanuman's five faces. It is a popular pious destination to visit in Rameswaram.
This famous idol is made of Senthooram Stone. It is carved out of it.  It is said that Lord Hanumana showed his five-faced form for the first time in this place. The statue of Lord Hanuman is worshipped by smeared with sindoor with utmost devotion. The temple here enshrines the statues of Rama, Laxman, and Sita. The Hanuman Temple is believed to house the floating stones which were used to build the Rama Setu.
Lakshmana Teertham:
Laksmana Tirtham is one of those popular places to visit in Rameswaram. This temple is very close to Ramanathaswamy Temple. There is a pond dug near the temple of Laxmana, which is believed to be a sacred pond. There are several instances of Ramayana carved out on the walls of Lakshmana Teertham. People come to this place to take a dip in that sacred pond.
Gandhamadhana Parvatham:
Gandhamadhana Parvatham is located in the north-western part of Rameswaram. Gandhamadhana Parvatham is also mentioned in the Ramayana. Remember the mountain which was carried by Hanuman on his shoulder to fetch the medicinal herbs to save Laxman. Yes! Gandhamadhana Parvatham is that mountain.
It is the highest peak of Rameswaram. This point is very famous for its stunning sunrise and sunset view. You can also see lots of birds as it is the highest point.
Sugreevar Temple:
Sugreevar Theertham is placed on the way to the Gandhamadana Parvatham. Dedicating legendary Monkey King, Sugreeva, this temple was built. The temple is famous for its popular lotus pond. A sacred pond Sita Kund is situated near this temple. This is an attractive and divine tourist destination of Rameswaram. The temple of Gandhamadhana is one of the ancient temples in India. The temple of Gandhamadhana is a two-storeyed building. There is Lord Rama's feet imprinted on the chakra placed in the temple.
Jada Tirtham:
Jada Tirtham is a tiny temple and has its own mythological importance. It is around 3.5km from Ramanathaswamy Temple. The temple is constructed, near the trunk of a large peepal tree, on the way to Dhanushkodi Village. Jada Tirtham is a must visited divine destination among the Hindu devotees for the sacred pond. Maha Shivaratri, which occurs once a year, and Maha Makam, which celebrates once in 12 Years, are two major events of Jada Teertham.
It is said that after killing Ravana, Lord Rama was about to worship Shiva Lingam in Rameshwaram. He washed his Jata in Jada Teertham. Since then, it marks as an important pilgrimage site of Rameswaram. There is a Shiva temple close to the sacred pond of Jada Teertham. This place is said to be the one and only temple in the Indian subcontinent, where Lord Kapardisvara is worshipped.
Bridges and other sightseeing:
Adam's Bridge or Rama Setu:
The Adam's Bridge or Rama Setu is an iconic bridge that connects the Rameswaram island of India to Sri Lanka.  The beautiful collection of limestone shoals start from Dhanuskodi, the tip of India's Pamban Island, to the north-western coast of Sri Lanka, Mannar island.
Water Bird Sanctuary:
Water Bird Sanctuary of Rameswaram is one of the famous and attractive tourist places, is located in the Ramanathapuram District. It is a famous tourist destination of Rameswaram for nature lovers. Water Bird Sanctuary of Rameswaram is home to a lot of natives as well as migratory waterbirds, especially in October to March when they arrive here to breed and feed their young ones.
Annai Indira Gandhi Road Bridge:
Annai Indira Gandhi Road Bridge is one of the beautiful and famous spaces in Rameswaram, and It is also known as the Palk Strait. It is a cantilever bridge that connects Rameswaram with India. It is also known as Pamban Bridge. This bridge is might be India's first sea bridge.
The road next to the bridge serves a clear view of this railway bridge and of its amazing double-leaf bascule. It raises itself and let the ships pass from underneath it. This bridge is 100 years old bridge. It has 143 pillars,  220 feet in length, and 100 tonnes in weight. You must have a glimpse of the railway bridge if you are driving over the bridge.
BEACHES OF RAMESWARAM:
Ariyaman Beach:
Ariyaman Beach is among Rameswaram's finest  Tourist Places. Ariyaman Beach is also known as Kushi Beach. It is the perfect place of Rameswaram for relaxing and spend quality time with family, friends, and partners. This beach is a 150 m widespread beach and 2 km length respectively.
This beach is known for utmost cleanliness and gentle waves. on this beach, tourists can enjoy boating. different water-based sports like windsurfing or water scooter ride is also available here. The beach has a children's park, an aquarium, and a museum too.  one can also enjoy Parasailing, an exciting activity here.
Dhanuskodi Beach:
Dhanushkodi is a small, sparsely populated beach town. Dhanushkodi is situated at a distance of 18 km from Rameswaram, is bordered by the Bay of Bengal on one side and the Indian Ocean on the other. It is said that the name Dhanushkodi is named after Rama's bow. The town Dhanuskodi has been declared a 'Ghost Town' by the government. It was abandoned after hitting by the storm of 1964. Now it is home to around 500 fishermen and their families.
Agni Teertham:
The Agnitheertham is among the important Theertham of Rameswaram. It is among India's One of 64 sacred baths. It is placed on the beachside of Sri Ramanathaswamy temple. Agnitheertham is the only Theertham of Rameswaram placed outside the temple complex.
It is believed that bathing in this sea takes one's sins and makes them pure. This is a holistic ritual for those people whose dead ancestors are performed on the shores of this beach. Pilgrims take a sacred bath here and then proceed for the bath inside the Rameswaram Temple.
THINGS TO DO IN RAMESWARAM:
Attend Mahashivratri Festivities:
Maha Shivratri is a popular festival of Rameswaram. In Rameswaram, Shivratri is celebrated grandly. This festival is a 10-day festival. Pilgrims from all over the city come to offer prayers at this festival. Lord Shiva is worshipped with flowers and milk.
Go for Scuba Diving:
Scuba diving is a brilliant water activity, which attracts tourists from all over the country to Rameswaram. It serves the glory of the beautiful marine world. This is the ideal place to enjoy the cool sea breeze, stunning view of the sun, and sand, along with sea creatures, like a variety of fishes starfish, sea cucumber, etc. For scuba diving, this place is perfect and one of the best on mainland India for high quality and personalized experience.
Meet the underwater world at Sea World Aquarium:
In Rameswaram, Sea World Aquarium is a very popular destination for all the tourists. It is located just opposite of Rameswaram bus stand. It has an amazing collection of sea creatures and an awesome view of the underwater world. There are aquatic species like the clownfish, Rabbit Fish, parrotfish, Shark, Lobsters, and Octopus. Beach Tamet, shark, lobsters, octopus, and many more. If you have children in your family then you and your family must visit Sea World Aquarium once.
How to Go to Rameswaram:
By Air:
Madurai Airport is the closest airport to Rameshwaram. It is situated around 170 km from Rameswaram. From here you can take a rental cab to reach Rameswaram.
By Train:
Rameshwaram Railway Station is a popular railway station and is well-connected with many major cities of India, like Madurai, Chennai, Thanjavur, Coimbatore, and Trichy, etc. you can reach your destination via various express, mail, and superfast trains.
By Road:
 A journey to Rameshwaram by car is the most exciting. The roads are very smooth and lain over a bridge. That can be begun from various cities of India like Tiruchirappalli, Madurai, Chennai, or Thanjavur.
[ ALSO READ: Famous Temples In Rajasthan ]