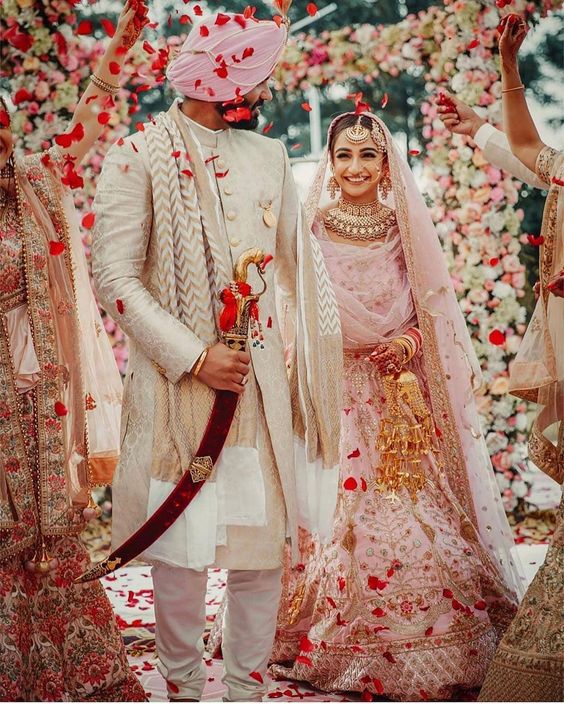 Getting married to the loved one is the most beautiful moment in everyone's life. It is the time when your dream comes true. It is the start of a new life. If you want to freeze those moments for a lifetime, what could be better than a perfect destination wedding!
Marriage is a culturally, legally, and socially recognized union between two individuals that unites their lives economically and emotionally. It's a lifetime bond between two people, lasts until death, but by separation or divorce, it can be cut short. The ceremony of marriage is named wedding. Weddings in India change according to the community, region, religion, and personal preferences of the bride and groom. Wedding in India is celebrated with various rituals, eye-catching decorations loud music, and dance. 10 million weddings are celebrated per year in India. A new wedding trend is presently very famous in India- "The Destination wedding".
Destination Wedding is a new trend in India. Many people want to enjoy the special ceremony only with their close friends and family members. India has some exotic and magnificent locations that can adorn the most special occasion of anyone's life with charm and incredible magnificence. Destination Weddings in India have become very popular. whether if you love the beach or the mountains, the palaces or the forts, India has all the variation to make your marriage ceremony an unforgettable event.
Presently, destination weddings in India are setting trends. Here are some beautiful wedding destinations in India that will make you think about a lovely destination wedding. Have a look at them.
Best Divine places for a Destination wedding in India:
Udaipur, Rajasthan:
Udaipur is the crown jewel of Rajasthan and considered the city of lakes. The lakes and palaces of this beautiful place are admired by Indians and foreigners too. owing too. The majestic palace buildings in Udaipur make this place unique. The sophisticated blend of the richest elements of culture and heritage extends Udaipur's splendor.
Udaipur, the "Venice of the East" due to its rich heritage, culture, and architectural magnificence, is one of the first names that comes to everyone's mind for a perfect destination wedding. Destination wedding in Udaipur is something like an extraordinary fairy-tale. It is one of the finest settings for a destination marriage ceremony. The Jag Mandir palace or the Oberoi- UdaiVilas offer an amazing atmosphere with a touch of splendor, affluence, and royalty. Its amazing and royal atmosphere makes it one of the most popular places for destinations wedding in India.
Udaipur is the perfect pick for a destination wedding in India for all those romantic couples who want to make their wedding memories the most precious moments of life. It will make you fall in love with this place by the grandeur of the royal aura and the warmth of its luxurious hospitality.
Jaipur, Rajasthan:
Jaipur, the royal capital of Rajasthan, is one of the most romantic cities in India. Jaipur offers a stunning view of heritage and exquisiteness. It is a popular place for gorgeous marriage celebrations which occur in authentic palaces or in ancient mansions. The 'pink city', Jaipur has a complete variety of venues from palaces like the Raj and Rambagh Palace to Havelis or traditional settings in the Samode Palace. It showcases full of festive ideas with a touch of royalty.
Andaman and Nicobar islands:
Incredible blue skies, beautiful white sandy shores, blue water access, enchanting scenes – the perfect romantic place. Make your wedding day perfect in the Andaman and Nicobar Islands, the coastal paradise of India, residing in the Bay of Bengal. This is one of the best and romantic places for a destination wedding in India. The beautiful natural theme of the place and the virgin beaches with enchanting turquoise blue water excites the couples the most.
Havlock is a picturesque wedding venue. It is one of the best destination wedding venues. It is a perfect exotic wedding venue on the beach. It is placed a few km away from Port Blair. This beach is one of the most popular locations among couples planning for a destination wedding in the Andaman and Nicobar islands.
Port Blair is one of the most preferred destinations in Andaman and also the capital city of Andaman and Nicobar islands. For luxurious wedding planning, Port Blair is the perfect place in Andaman and Nicobar islands. It has some beautiful resorts. Couples can enjoy the best arrangements and accommodation near the beach.
The beautiful Andaman and Nicobar islands embody the most idyllic of beaches and the most luxurious of resorts and also include romance in its heart and soul. Icy winds, calm atmosphere, turquoise water-the perfect romantic place for a destination wedding. The sun-kissed beaches and the air grazed palms – this place is just like a painting on canvas. The breathtaking and eye-catching splendor of its natural settlement makes the Andaman and Nicobar Islands one of the most beautiful destination wedding venues ever!
Goa:
The wave's soft humming, the soft sand between toes, a combination of blue water and sky, and the salty winds-sounds romantic. Isn't it? If you are planning for a gorgeous beach destination wedding with your friends and family, Goa is perfect for you. Goa is the place of love and romance. For all the couples, getting married in Goa is like a dream come true. A perfect combination of blue skies, lush greens, and blue deep waters, Goa is one of the top places for beach wedding places in India.
Goa is a vibrant place. It has that much beauty that fancy planning is not so much needed for this place. Goa weddings are a mixture of contemporary and classic. your wedding album will be full of aesthetics and charm. If you want to plan your dream wedding that you will remember for your lifetime, then Goa is the place.
Backwaters of Kerala, Kerala:
Kerala is a beautiful venue for planning destination weddings. It can easily give tough competition to any international wedding destination with its flawless scenery, cool breeze, open sea, and docile bay waters. Kerala provides stunning wedding venues with beautiful natural themes, especially Kerala Backwaters. Kerala backwater is the venue where so many couples dream to get married. Destination Weddings in Kerala is an attractive and luxurious destination wedding venue. The backwaters of Kerala are serene, pretty, and the perfect getaway for a destination wedding. If you are planning for a destination wedding in Kerala, the beautiful natural theme will be the first thing to make you consider. 
Under the blue open sky with watery surroundings, it is one of the most glamorous places to host a wedding. Kerala, the god's own country, is considered the mini version of India, which provides the most exotic backdrops for your special day. You can plan for traditional as well as western weddings. Though Houseboats are very small, only fit for a small group of gathering and couple only, Backwater Resorts serves a variety of cultural experiences in a luxurious environment. 
Kovalam, Kerala:
Excited about another exotic and beautiful destination wedding venue? Kovalam catchphrase is another south Indian destination for weddings. Fill with peace and tranquility, Sparkle rises and in the greens. Kovalam is a quite offbeat destination wedding venue. Kovalam is the perfect luxurious venue for a destination wedding with sun-kissed beaches. This amazing place that was once a sleeping village is now developing as a famous destination for weddings.
There is a romantic association in Kovalam in disguise, with Bella with the waves of the sea and gentle sea winds full of affection the souls crumbling up their love. lined with coconut trees, Kovalam beach is a traveler's paradise and romantic fantasy. This is one of the divine places for a destination wedding in India.
Shimla:
Are you planning for a gorgeous offbeat wedding destination away from the noise and the dirt of the metropolis? Then Shimla is your answer. Shimla is referred to as the summer capital of India. A picturesque town covered with lush pine trees, crooked little colonial bungles, and charming cobbled streets. Shimla is the most popular summer wedding destination in India. It serves a pleasant environment, wonderful climate, and snow-covered mountains. 
[Also Read: Itagpuri tourism]