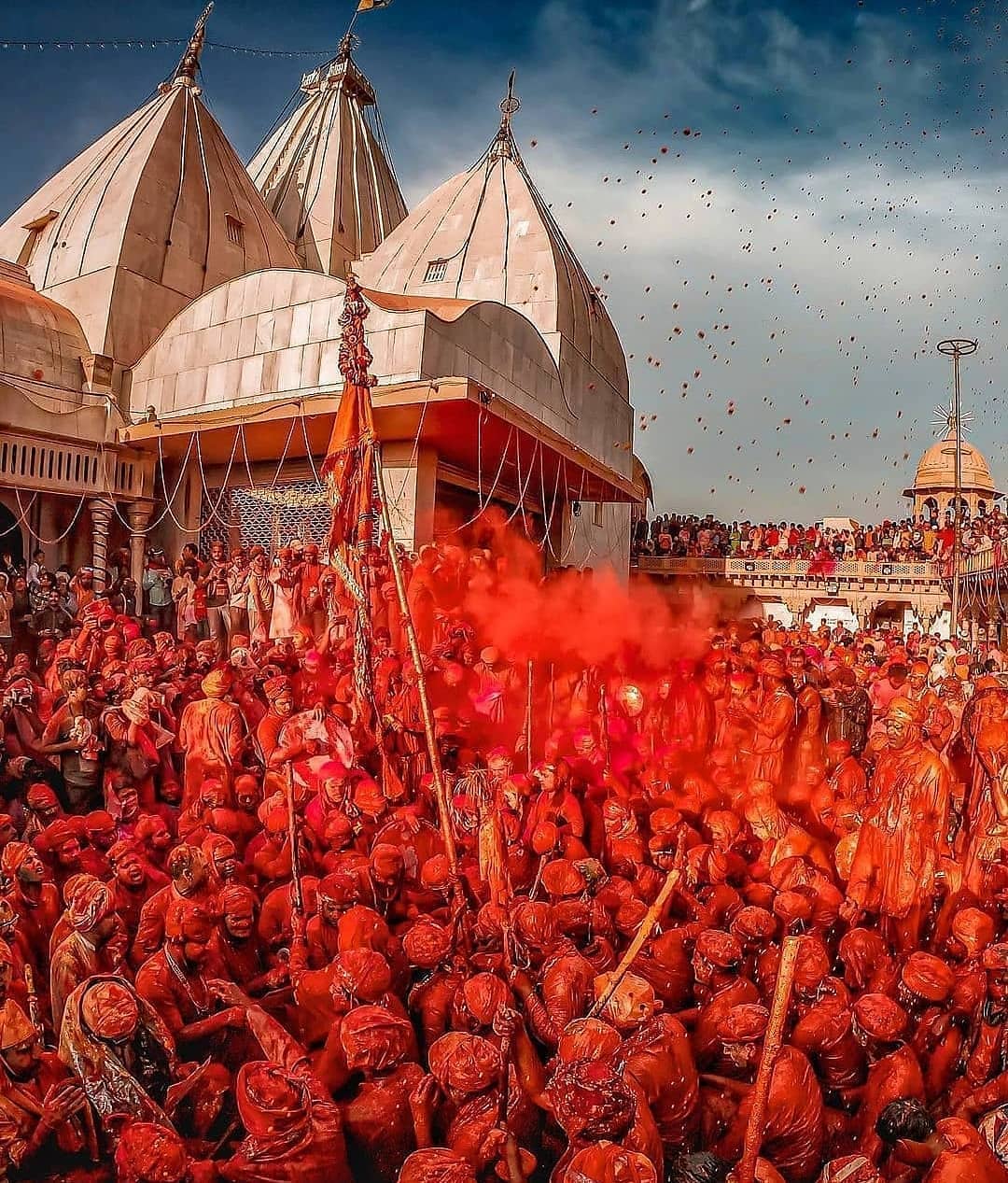 Holi, the  "festival of colors" is very famous and one of the ancient Hindu festivals. Although it is originated as a Hindu festival, it has become popular among non-Hindus too. The festival is celebrated to celebrate the pure, eternal, and divine love of Radha and Krishna. This festival is also known as the "festival of love", and the "festival of spring". Though this festival is originated and is predominantly celebrated in India, it is also celebrated in other regions of Asia and some parts of the Western world.
Holi is a way to celebrate the various and vibrant colors of nature. The 'carnival of colors' is one of the most popular festivals celebrated prominently in India, which go beyond religions, communities, and castes and spread harmony, friendship, love, and brotherhood.
Holi is a festive day to celebrate the arrival of spring, to the end of winter, the blossoming of new love, meet peoples, play and laugh, forget and forgive, and repair broken relationships. People sprinkle water with color and colored powder on each other. By this festival, India turns into a canvas of vivid colors.
History, Regional names, rituals, and celebrations:
The Holi festival is mentioned in the Puranas, Dasakumara Charita, and during the 4th-century reign of Chandragupta II by the poet Kālidāsa. This festival is also known as Phakuwa or Phagwah, Festival of Colours, or Dola jātra in Odisha, and as Dol Jatra or Basanta Utsav  ("Spring festival") in West Bengal and Assam.
Washable natural plant-derived colors such as neem, turmeric,  dhak, and kumkum are naturally used as the traditional color. But water-based commercial colors are also used. Everyone in the streets, courtyards, and parks plays Holi. Inside homes only dry powder is used on each other's face. People throw colors at each other and colored up together. It is like a sweet water fight, but with colored water.  Everyone looks like a canvas of colors. This is why Holi is called the "Festival of Colors".
Holi in Different states of India:
Uttar Pradesh:
Barsana is a town located near Mathura in the Braj region of Uttar Pradesh, famous for Lath mar Holi in the compound of the Radha Rani temple. Thousands of people gather to witness the Lath Mar Holi when women beat up men with sticks and sing Holi songs and shout "Sri Radhe Radhe" or "Sri Radhe Krishna."
Mathura is the birthplace of Lord Krishna. In Mathura and Vrindavan, the festival of color is celebrated with the special puja of Lord Radha Krishna. Hathras, Aligarh, and Agra, the neighboring places of Mathura also celebrate the festival of color grandly.
In Kanpur, this festival is celebrated for seven days with color. On the last day, Ganga Mela, a grand fair is celebrated. The fair was started by freedom fighters in the First Indian War of Independence in 1857 under the leadership of Nana Saheb. The Mela is arranged on the banks of the River Ganga in Kanpur.
West Bengal:
Holi or the Spring festival is a very famous festival of West Bengal, especially Bolpur and Kolkata. In West Bengal, Holi is known as "Dol Jatra", "Dol Purnima" or the "Swing Festival".On the day of Dol Purnima, people of West Bengal, mostly children dress up in saffron-colored or white clothes and wear fragrant garlands of flowers and celebrate the Spring Festival with music and dance. They colored each other with powdered color, known as Abira. Santiniketan of Bolpur, Birbhum is known as the place of Holi in West Bengal.
Assam:
The Holli is celebrated for 3-5 days in Assam. This festival is known as Phagwah. The first day of this festival is called banhutsava, the second one is called bhardoul, and the final day is called phakua or suweri. Holika Dahan is celebrated to celebrate the victory of good, on the other hand, bhajan and folk songs are sung to celebrate the eternal and pure love of Radha and Krishna.
Bihar and Jharkhand:
Holi is called Phaguwa in the local Bhojpuri dialect. In this region, the  Holika Dahan is practiced. On the evening of Phalgun Poornima, people practice bonfires. They put dried cow dung cakes, dried woods, grains from the fresh harvest, and unwanted wood leaves in the bonfire.  On the next day, the festival is celebrated with colors.
Holi Milan is also celebrated in Bihar. In this festival family members and well-wishers visit each other's family, apply colors on each other's faces, and if elderly then on feet. Holli is played in the morning through the afternoon with wet colors and powdered colors.
Gujrat:
In the state of Gujarat, Holi is celebrated for two days. On the first day's evening of the people light the bonfire and offer raw coconut and corn to the fire. The second day is the festival of color which is known as "Dhuleti" in Gujrat is celebrated by sprinkling colored water and colors to each other. Dwarka Gujarat celebrates Holi at the Dwarkadheesh temple. The coastal city celebrates the festival of culture with citywide comedy and music festivities.
Punjab:
In Punjab, Holi is known as Luhatak. It is an eight days long festival. Holika Dahan is practiced the night before the festival when a fire is lit. The Lubanas of Punjab celebrate Holi with great pomp and show. The Lubanas lit a pice and betel nut. In some places in Punjab, Holi was also celebrated with making fools of others. During this festival in Punjab, walls and courtyards of houses are decorated with colors like rangoli. This art is called chowk-poorana or chowkpurana in Punjab. women of the state give the shape of those paintings using a piece of cloth.
Famous Foods in Holi:
Holi is not only a festival of color. It is a festival of food too. There are so many signature and delicious dishes all over India. So here are some delicious, mouth-watering, and must-have dishes of Holi.
Gujiya:
Gujiya is one of the famous and must-have dishes in the festival of color. It is a sweet dumpling made of flour. Gujiyas are a delicious Holi treat. It is also called 'karanji' in the northern states of Maharashtra and Karnataka and 'Pedakiya' in Bihar. It is stuffed with mawa, dry coconut, almonds, and cardamom. It is an absolutely mouth-watering food in the time of Holli.
Thandai:
Thandai is one of the very famous and one of the oldest beverages to have on the day of Holi. It has been preparing with milk, ghee, and spices. Bhaang Thandai whereas is the mixture of bhaang, squashing the buds and leaves, and Thandai. For children and those who are not interested to have Bhang Thandai almond and Kesar variants of thandai are amazing alternatives
Kulfi:
Kulfi is very famous among children. Elders love it too. Kulfi is a very famous dessert to have in Holi. It also provides relief from the heat. Kulfi is made by a mixture of milk, saffron, and pistachios into metal cones and keeping them covered with slurry ice.
Phirni or Firni :
Phirni is another delicious cold delight. It is made with milk and ground rice. It is a rice pudding, garnished with cardamom, pistachios, and almond. It is uniquely made in clay bowls called "Shikoras". To make it look more attractive, some strands of saffron are added for a delightful aroma and taste.
[Also Read: