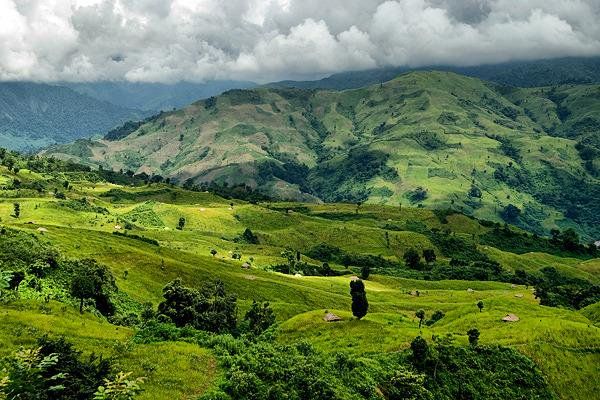 Ziro is a paradise for every nature enthusiast and adventure freak. It is situated at an altitude of 5500 ft. Filled with terraced rice fields, bamboo forests, and vivid trails lined with tall blue & green pines. That makes this hilly hamlet amongst the most photogenic valleys all over India. Ziro is also known for its striking wildlife treasures.
The soothe to a unique tribal group and a gentle climate, Ziro is the paradise of the peace seekers. Ziro is an exotic old town in Arunachal Pradesh. It is the home of the Apa Tani tribe. It is famous for its pine hills and rice fields. The mild weather in this region throughout the year makes it comfortable to travel all year round.
Best Time to visit Ziro:
Ziro has a pleasant climate throughout the year. The best time to visit Ziro is from March to October. During summer, this hilly hamlet becomes a perfect destination to get away from the torrid heat of nearby cities. The lush greenery with clear blue skies makes the entire place look vivid and magical. Another perfect time to visit this hilly village is in the Early Winters from October to November. The valley is enveloped in snow during the winter season. The months from late November to January experience frigid temperatures as low as -13 degrees Celcius. Monsoon is another beautiful season to visit this region with variegated valleys and beautiful weather.
| | | |
| --- | --- | --- |
| Month | High/Low (°C) | Rain |
| January | 13°/ 4° | 12 days |
| February | 14°/ 5° | 18 days |
| March | 17°/ 8° | 27 days |
| April | 18°/ 10° | 25 days |
| May | 19°/ 14° | 31 days |
| June | 23°/ 16° | 29 days |
| July | 20°/ 16° | 31 days |
| August | 24°/ 17° | 31 days |
| September | 21°/ 15° | 30 days |
| October | 20°/ 12° | 25 days |
| November | 19°/ 10° | 13 days |
| December | 15°/ 5° | 8 days |
Places to Visit in Ziro:
Tarin Fish Farm:
Paddy cultivation is the main occupation in Ziro. Two different varieties of rice are grown with one variety of fish in the water. Bamboo and Pine trees neighboured the paddy fields. Each component of this cultivation has a role to play – just like in coffee plantations.
Kile Pakho:
Kilo Pakho is provided as a viewpoint. It serves the viewers to get unique views on both sides. The Ziro plateau on one and the snow-laden Himalayas on the other.
Talley Valley Wildlife Sanctuary:
This 337 sq. km. the sanctuary houses a wide and exotic variety of flora and fauna. The endangered clouded leopards are can be spotted here. The sanctuary has a spectrum of flora as well which includes silver fir trees, ferns, orchids, bamboo, and rhododendron.
Meghna Cave Temple:
This temple is dedicated to Lord Shiva. It is nestled close to Ziro. It is a 5000-year-old structure and located at 3000 ft above sea level. The 10 minutes climb up the stairs is completely worth it.
Shiv Linga:
The headquarters of the Lower Subansiri District is situated 1500 meters above sea level. Ziro is 167 Km away from Itanagar. This Shiv Linga is self-made having Sfatic as garland naturally. The Linga is 25 feet in length and 22 feet in width. Ziro is a hilly town in Arunachal Pradesh. It is also known as the Apatani plateau, situated at an elevation of 5754 ft. above sea level.
There exist the largest Shivling of the world. This Shivling has been discovered not long ago by the locals of the state. This is a high hilly town almost a level valley. This is a perfect destination for picturesque with quietly flowing rivers of Subansiri, Apatani, Nishi, Dafla, and Miri. It is also an ideal place for trekking and hiking.
Pine Grove:
Pine Grove has nestled just 3km away from Ziro. This place is a beautiful picnic spot with an amazing view.
Dolo Mando:
Dolo Mando is amongst the famous attractions of this place, travelers trek to the top of this hillock to view the Hapoli town and old Ziro. This hillock is nestled on the western side of this hilly town on the Daporijo Road.
How to reach Ziro:
Tezpur airport is the nearest airport. It is situated 280 km from Ziro. It neither has an airport nor a railway station.
By flight:
Tezpur airport is the nearest airport. It is situated 280 km from Ziro. There are no direct flights from Delhi or Kolkata to Tezpur. So it takes a lot of time to reach. As Guwahati is connected to all the major cities most of the flights are via Guwahati. From Guwahati, a taxi is available. There are many govt and private taxis from Guwahati to Arunachal Pradesh.
By train:
There are many daily trains from Guwahati to Kathal Pukhuri costing around INR 750-1100. It takes 8 hrs to reach Kathal Pukhuri. From there a taxi is available. It doesn't have a railway station. Trains are also available from Tezpur.
By road:
Your safest option is to travel is to hire a taxi from Guwahati or Jorhat. Guwahati is 470 km away from Ziro. It takes around 7 hours to travel. The road condition is good and it covers NH27 and NH15. Govt buses are also available.
Also Read:
Famous Places To Travel In Coorg
Famous Tourist Places In Munnar
Famous Places To Visit In Kanyakumari