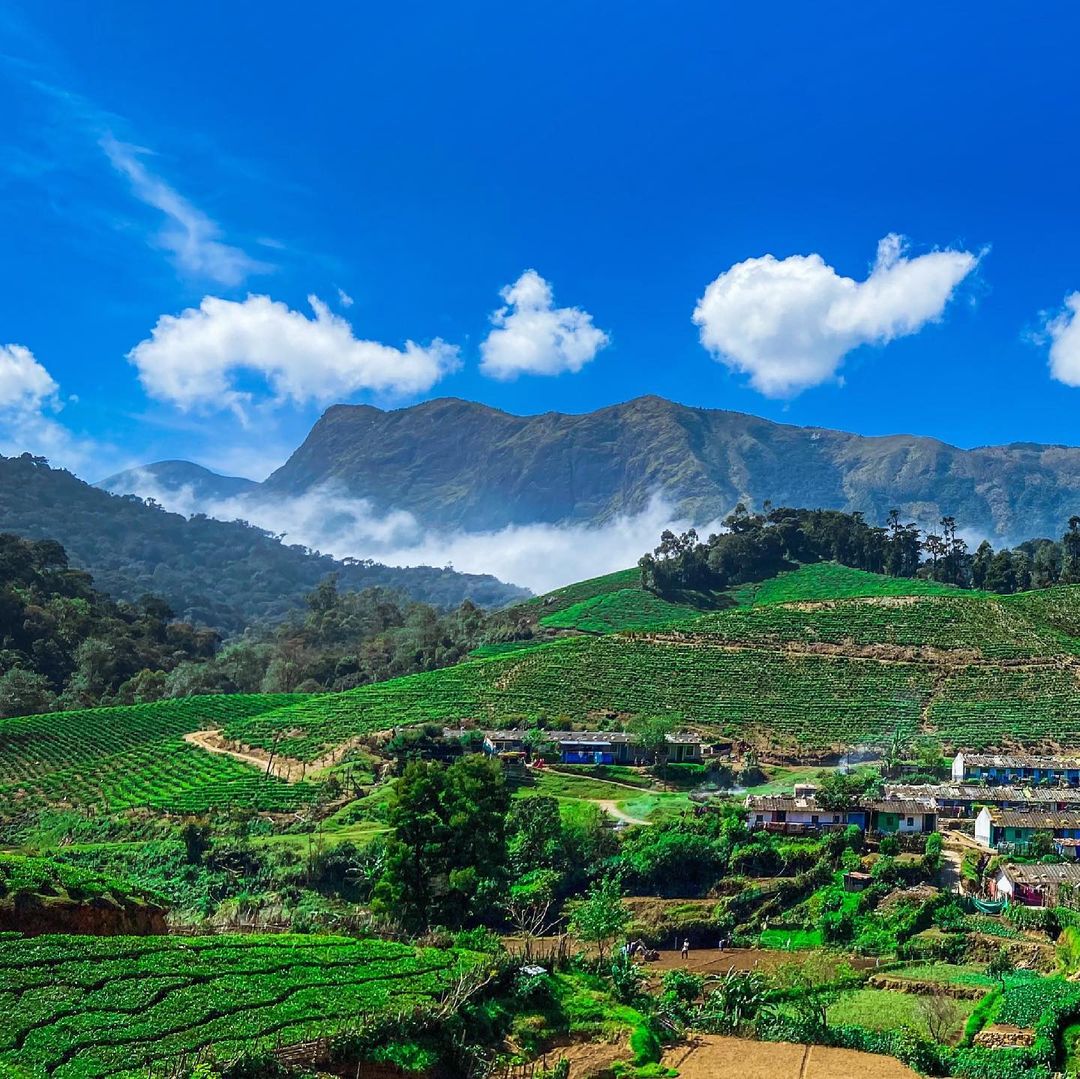 Munnar is a famous hill-station of Kerala. It is nestled at an altitude of 1600 mt in the Western Ghats. It is known for its tea estates, various shades of green, blankets of mist and craggy peaks. Munnar, the beautiful hill station is famous as the 'Kashmir of South India'.
Munnar, the magnificent hill station of Kerala is situated on the banks of three rivers, namely Nallathanni, Madupetti, and Periavaru. Apart from the tea-plantations, Munnar is blessed with natural view-points. Munnar is divided into Old Munnar, where the tourist information office is located, and Munnar, where the bus stop and most of the guest houses are placed. The Eravikulam National Park, Salim Ali Bird Sanctuary and tea plantations are the major attractions of Munnar.
Famous Tourist Places in Munnar:
Echo Point:
Echo Point is situated at an altitude of 600 ft. and at a distance of about 15 km from Munnar. It is located in the lap of a quaint lake and misty hills covered with lush green trees. As its name, this place is famous for its enthralling illustration of the phenomenon of echoing. Echo point is a paradise for birdwatchers, because many of native birds can be sighted in this place.
Atukkad Waterfalls:
Atukkad Waterfalls is situated 2 km away from Munnar amidst beautiful hills and lush green jungles. This pristine waterfall makes for romantic destination and picnics site. But, the road to Atukkad is very narrow and needs a lot of experience to drive on
Top Station:
Top Station is situated about 32 km away from this hill station. It is nestled on the border of Kerala and Tamil Nadu. It is the highest point in this region to enjoy the panoramic view of the majestic Western Ghats and valley of Theni District of Tamil Nadu. Top Station is historically popular as a transhipment point for the delivery of tea that Munnar produced to Tamil Nadu. It got its name as it was the uppermost railway station in Kundala Valley. 
Photo Point:
Photo Point is this picturesque site placed atop the low rolling slopes and corrugated plains of Nilgiris in this region. In the background of the tea gardens of this region, this point provides as an excellent photographic point. Photo Point is nestled 2 kms from this hill station, on the way to the Madupetty Dam.
Tata Tea Museum:
Tata Tea or KDHP Museum is nestled in the Nallathanni Estate of Tata Tea around 2 km away from this hill station. The KDHP Museum houses a variety of antiquities, the most famous being the burial urn excavated from the vicinity of Periakanal Estate, dated on 2nd century AD. Tourists proceed to the factory to understand how tea is processed.
Eravikulam National Park:
The Eravikulam National Park is situated 45 – minute drive away from Munnar. It is also popular as Rajamalai Wildlife Sanctuary. It houses a large and diverse variety of wildlife. This national park is a UNESCO world heritage site. Elephant, Nilgiri langur, small-clawed otter, Nilgiri marten, Atlas moth, lion-tailed macaque, and a rare tiger or leopard etc animals can be spotted here.
Pothamedu View Point:
Pothamedu View Point is placed 5 km from Munnar. It is adorned with stretching hills and lush green mountains. It provides the spectacular wide views of tea, coffee and cardamom plantations. It is a perfect place to witness stunning sunrises and sunsets. Idukki Arch Dam which is about 60 kms away is visible from this viewpoint.
Marayoor:
Marayoor is a scenic locale, is known for its naturally growing sandalwood forest and dolmens from the Stone Age Civilisation. It is placed just 40 km away from Munnar. It is wrapped in a wispy blanket of glorious clouds, Marayoor has hamlets, sugarcane fields, waterfalls, and bamboo forests making it an enchanting landscape of exquisite green beauty.
Chinnar Wildlife Sanctuary:
The Chinnar Wildlife Sanctuary is nestled in the Western Ghats. It is a part of the Idukki. This sanctuary is spread over 90.44 sq km area. This region houses a wide variety of wildlife which makes it a famous tourist place. Chinnar houses a large variety of medicinal plants, and as the home to start tortoise. It houses animals such as grizzled giant squirrel, spotted deer, gaur, tufted grey langur, wild elephant, slender loris, crocodile, tiger, leopard and many birds.
Also Read:
FAMOUS PLACES TO VISIT IN KANYAKUMARI
AULI TOURISM: THE SKIING DESTINATION OF INDIA
FAMOUS HILL STATIONS IN MAHARASHTRA FOR A PERFECT SUMMER BREAK