Jammu is the winter capital of Jammu and Kashmir, an Indian union territory. It is the union territory's headquarters and the largest city in the Jammu district. Jammu is located on the banks of the Tawi River and is bounded to the north by the Himalayas and to the south by the northern plains. Jammu is the second-most populous city in the union territory. Jammu, also known as the City of Temples, is the most visited union territory due to its ancient temples and Hindu temples. Jammu city is bordered by the neighboring Samba district. Below we are going to discuss Best Famous Places In Jammu.
Best Famous Places In Jammu:
So, here is a list of some of the Best Famous Places In Jammu that will ensure you have a memorable vacation in this lovely city. So sit back and relax as we try to give you an idea of what to expect on your trip to famous places in Jammu and Kashmir.
1. Peer Kho Cave: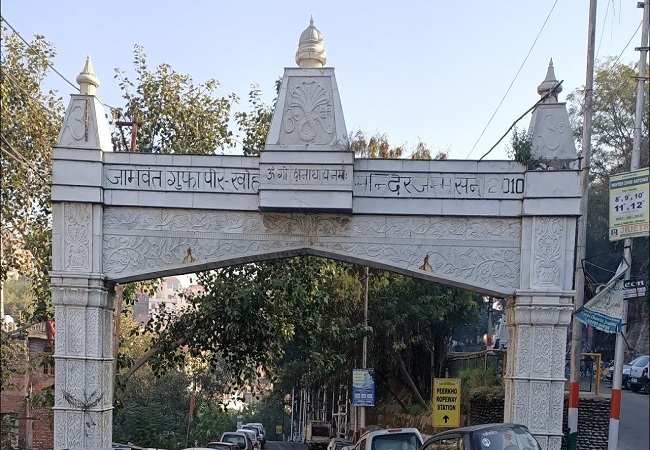 Peer Kho Cave Temple is one of the sacred cave temples dedicated to Lord Shiva in the Jammu. The svayambhu shivalinga is enshrined in the cave temple, also known as Jamwant Cave. According to the epic Ramayana, Jamvant (the bear god) chose the cave as a place to go into deep meditation. Peer Kho Cave is a pilgrimage site that hosts a number of festivals throughout the year, including Shivratri, Raksha Bandhan, Shravan Poornima, and others. It is one of the Best Famous Places In Jammu for many Hindu visitors.
Also Read: TOP 18 BEST PLACES TO VISIT IN DARJEELING
2. Bahu Fort: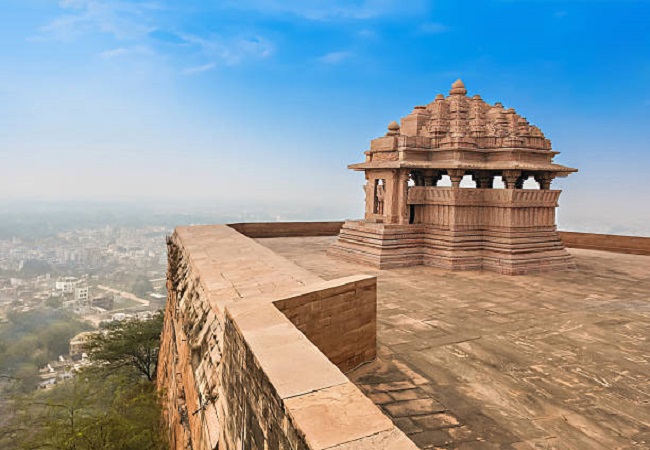 The Bahu Fort is a historic fort in Jammu, Jammu. The fort has a temple dedicated to the Hindu goddess Kali within its walls, making it a religious site. The ancient fort, built on the banks of the Tawi River, is thought to have been built around 3,000 years ago by Rajput Raja Bahulochan. This brings a large number of pilgrims to the fort and the temple. The first renovation of this fort is thought to have taken place during the Dogra rule in the 18th century. The "Bahu Mela," a popular Hindu festival, is held twice a year during the Navaratras in the fort area, in March–April and September–October. Bahu fort is one of the Best Famous Places In Jammu.
3. Vaishno Devi Temple: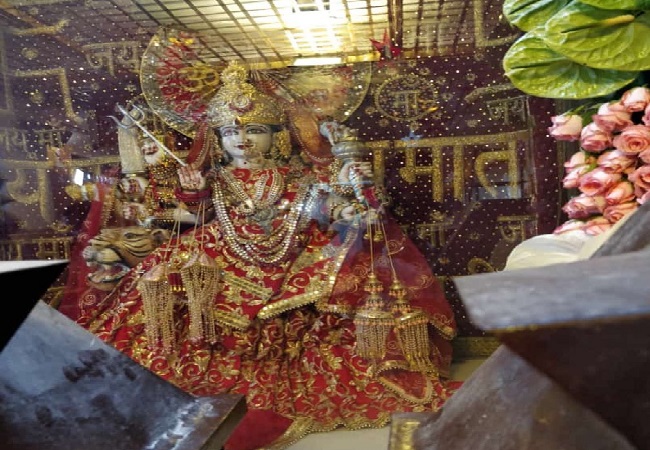 Millions of pilgrims visit Vaishno Devi Temple each year, making it one of the most visited Hindu shrines in the world. The temple is dedicated to Goddess Mahalakshmi, and it is believed that whatever you wish for here will be granted. Visitors must trek from a point to the top of the cave-styled temple, which is located at an elevation of 5200 feet above sea level.  Vaishno Devi Temple, one of the Best Famous Places In Jammu, you can take a helicopter ride, a pony ride, or a palanquin.
Also Read: BEST AND FAMOUS PALACES IN RAJASTHAN
4. Raghunath Temple: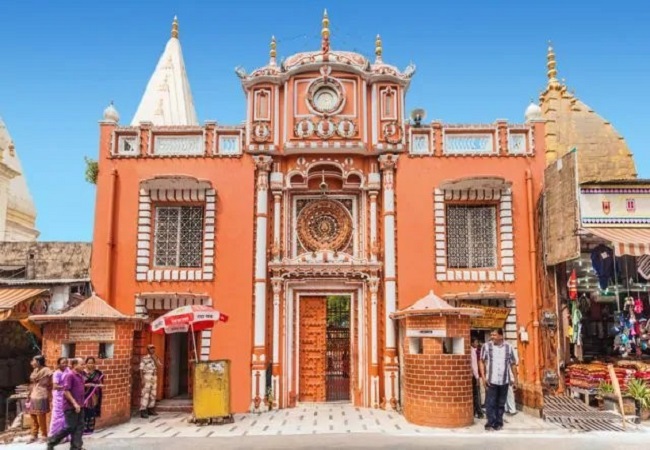 Raghunath Temple is a Hindu temple in Jammu. It is made up of a group of seven Hindu shrines. The paintings in the main shrine's 15 panels are based on themes from the Ramayana, Mahabharata, and Bhagavad Gita. Raghunath Temple is one of the holy and Famous Places In Jammu.
On the temple grounds, there is a school and a library with over 6,000 manuscripts in various Indian languages, including a significant collection of Sarada script Sanskrit manuscripts. During Dogra rule, the first Dogra ruler, Maharaja Gulab Singh, built Raghunath Temple in 1835, and his son, Maharaja Ranbir Singh, completed it in 1860
The temple complex contains many shrines dedicated to various gods, but the presiding deity is Rama, also known as Raghunath, an Avatar of Vishnu.
5. Shiv Khori: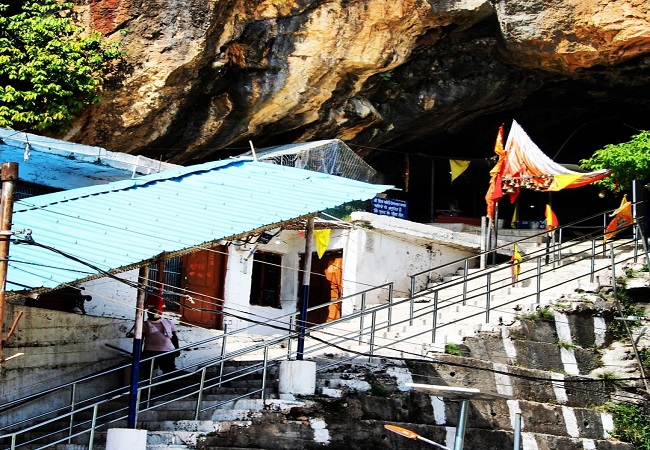 Shiv Khori is a Hindu cave shrine dedicated to Lord Shiva in Jammu and Kashmir's Reasi district. situated in the village of Sangar. Shiv Khori 
Shiv Khori denotes Shiva's cave, and Khori means cave (Guffa). This natural cave is approximately 200 meters long, one meter wide, and two to three meters high, and it contains a self-made lingam, which the locals claim is infinite. The cave's first entrance is so large that 300 devotees can fit inside at once. Its cavern is large enough to hold a large group of people. The cave's inner chamber is smaller. Shiv Khori is one of the holy Famous Places In Jammu.
Also Read: 11 FAMOUS PLACES TO TRAVEL IN COORG
6. Bhimgarh Fort: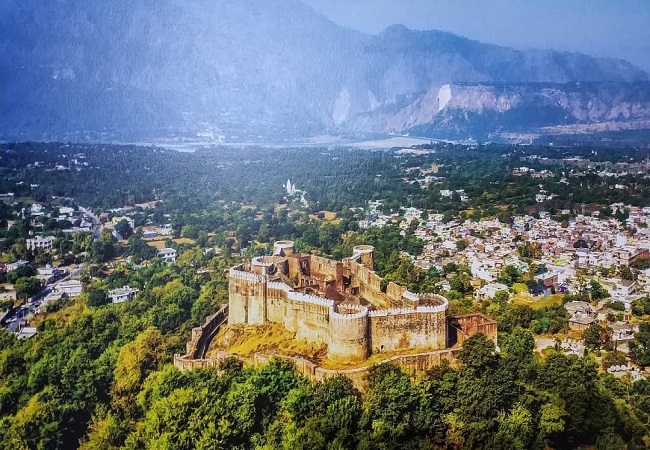 The Bhimgarh Fort, also known as the Reasi Fort, is located 64 kilometers northwest of Jammu, near Reasi. A new entry gate and a one-meter-wide stone wall and 50 meters long were constructed all around, making it less vulnerable to attacks. The fort has a temple, a pond, various sized rooms, an armory, and a treasury. Bhimgarh Fort is one of the Famous Places In Jammu.
On the state government's orders, Bhimgar Fort was handed over to the Jammu and Kashmir State Archaeology Department in 1989. Despite the fact that the fort has been severely damaged by earthquakes and a lack of maintenance, it remains an important landmark in the town.
After Maharaja Gulab Singh's death, his heirs, Maharaja Ranbir Singh and Maharaja Pratap Singh used Bhimgarh Fort as a treasury and armory. Gulab Singh of Jammu and Kashmir began the fort's renovation in 1817 and continued until 1841. The fort is situated on a 150-meter-high hillock. During Singh's reign, an English minister ordered the destruction of the armory and the relocation of the treasury to Jammu. The Vaishno Devi Sthapna Board renovated the fort in 1990. The fort was then made accessible to the general public.
7. Manda Zoo  National Park in Jammu: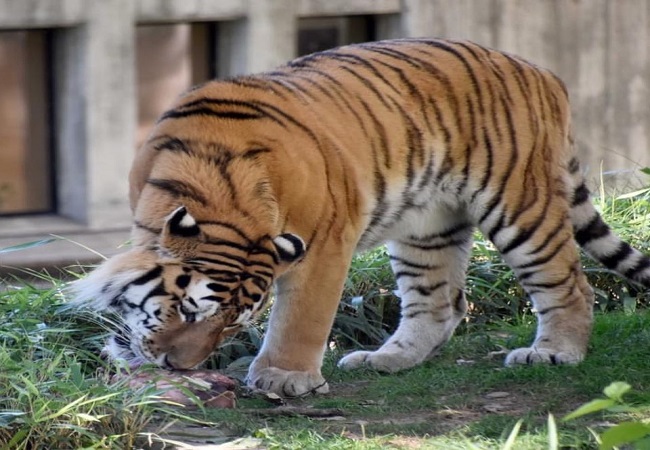 When it comes to finding a zoo in Jammu, however, Manda Zoo in Jammu is the only zoo in the province where visitors can look at the wonders of nature's best creations. Barbets, Hawk-Cuckoos (Papeeha), Bulbuls (Peenja in Dogri), and Weaverbirds, with their sweet melodies and artistic nesting behavior, add further thrill and charm to nature walk in the surrounding wilderness. Among other attractive birds, Paradise flycatcher (Poon chiri in Dogri, Doodhraj), Scarlet Minivet, Tailorbird (Darjainu, Darzi), Jungle Babblers, A Zoo is one such place that helps us bring out the child within us. Exotic birds such as turkeys and emus can also be found at Manda Zoo. It is one of the Famous Places In Jammu for families.
Also Read: FAMOUS PLACES TO VISIT IN KANYAKUMARI
8. Amar Mahal Palace: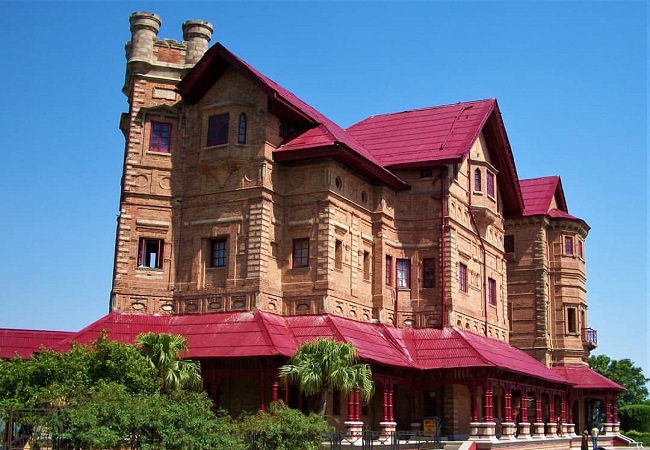 Amar Mahal is located in Jammu on the right bank of the Tawi River. The Amar is located in the Jammu palace that was converted into a museum. It was designed in the nineteenth century by a French architect for Raja Amar Singh. Dr. Karan Singh donated the palace to the Hari-Tara charitable trust for use as a museum. A 120-kilogram golden throne, Pahari miniature, and Kangra miniature paintings, a library of 25,000 antique books, and numerous rare art collections are among the exhibits. The palace served as the Dogra dynasty's final official residence, and the Museum houses a large collection of royal portraits. Amar Mahal Palace is one of the historic famous Places In Jammu.
9. Ranbireshwar Temple: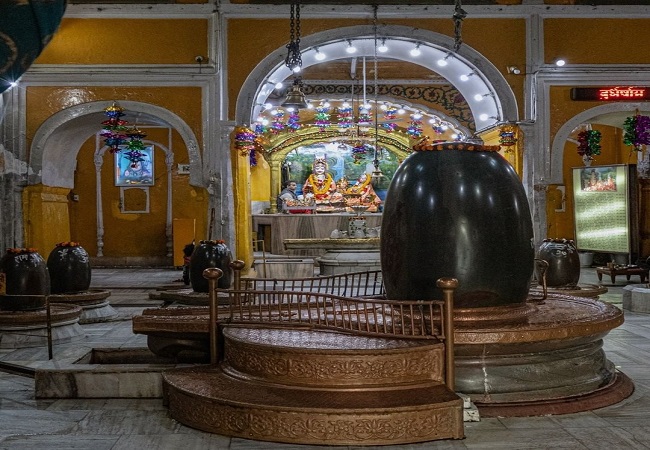 Ranbireshwar Temple, the largest North Indian temple dedicated to Lord Shiva, is one of Jammu's most popular attractions. This ancient shrine, located along the busy streets near the Secretariat, was built in 1883 by Maharaja Ranbir Singh. The temple is divided into two distinct halls, each decorated with images of Ganesha and Kartikeya, and the highlight here is the massive 8-foot-tall Shiva lingam (made of black marble) looming high in the temple's central sanctum. In addition, the Ranbireshwar Temple has 12 lingams (carved out of crystal) ranging in height from 15 to 38 cm. The best times to visit are during the morning and evening aartis.
Also Read: TOP 13 BEST MUST VISIT PLACES IN MALDIVES
10. Dargah Garib Shah:
Dargah Garib Shah is a popular Jammu shrine dedicated to Garib Shah, a Muslim saint. He is known as a preacher of brotherhood and unity, and as a result, people from both the Muslim and Hindu communities visit the Dargah Garib Shah. Locals believe the saint possessed divine powers and that people came to him to have their wishes granted. The sacred grave is unique in that it is maintained by the local Hindu community. As a result, the Dargah Garib Shah is a great place to get away from the hustle and bustle of city life.
11. Raghunath Bazaar: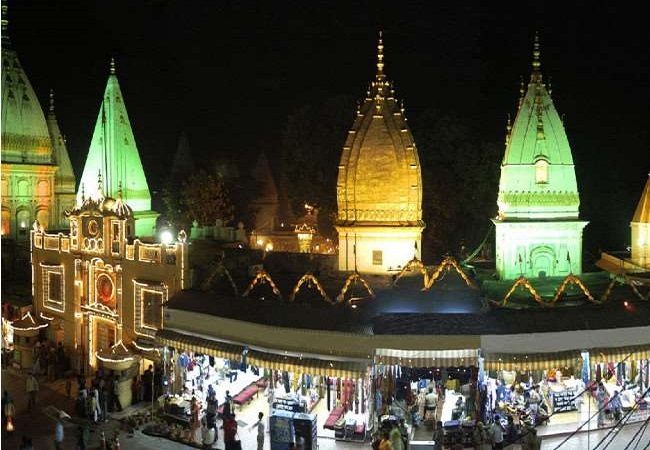 Raghunath Bazaar, located in the heart of Jammu, is a must-visit marketplace. This market, which is more than 150 years old, is a symbol of Jammu's prosperous cultural heritage. Traditional Dogra Jewellery, Ladhaki and Kashmiri handicrafts, Basholi items, footwear, sweets, fashion accessories, and more are all available for purchase here. It is one of the Famous Places In Jammu.
One of Raghunath Bazaar's specialties is the Pashmina Shawl, which is decorative, of high quality, and reasonably priced. These shawls are woven from the finest Cashmere wool, dyed in vibrant colors, and meticulously designed. The intricate embroidery on this fabric is a work of art in its own right.
Shiva is honored in a number of other temples. There is a large haveli (mansion) that dates from around 1830 and is in good condition, as well as several dharamshalas (pilgrim rest houses), most of which are severely deteriorated. Murals dating from 1813 to 1898 can be found on many of these structures.
Also Read:
12. Akhnoor Fort: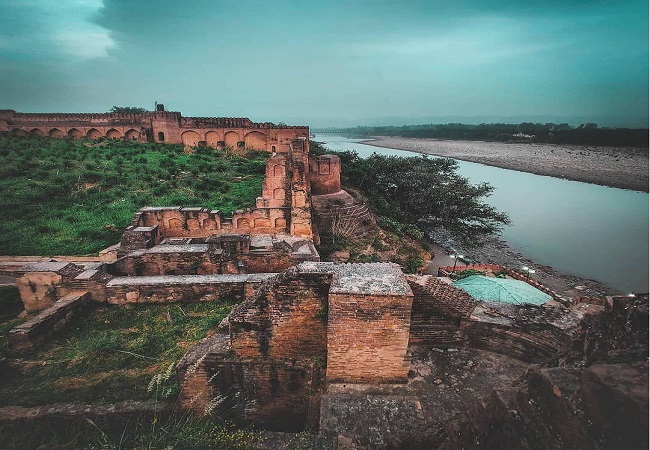 Akhnoor Fort is located on the Chenab River's right bank (Its ancient name Asikni). Raja Tegh Singh began construction in 1762 CE and his successor Raja Alam Singh finished it in 1802. On June 17, 1822, Maharaja Ranjeet Singh crowned Maharaja Gulab Singh at the Chenab River's Jia Pota ghat. It is one of the historical Famous Places In Jammu.
The fort is crowned with battlements and has high fortification walls with bastions at regular intervals. At the corners, there are two-story watchtowers crowned by battlements and merlons. The fort is divided into two sections by a wall with a gate on the southern side leading to the palace.
13. Mubarak Mandi Heritage Complex: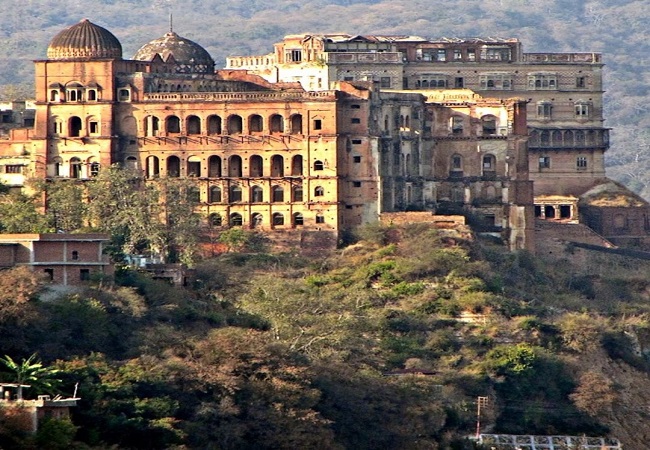 Mubarak Mandi is a palace in the Indian state of Jammu. The palace was the royal residence of the Dogra dynasty's Maharaja of Jammu and Kashmir. It served as their main residence until 1925 when Maharaja Hari Singh relocated to the Hari Niwas Palace in Jammu's northern outskirts.
The palace is constructed in a style that is reminiscent of both Rajasthani and Mughal architecture. The Dogra Art Museum is housed in the Pink Hall and features miniature paintings of Kangra, Jammu, and Basholi Hill Schools. It also has Mughal emperor Shah Jahan's gold-painted bow and arrow. The pink hall gets its name from the palace section's pink plastered walls. It is one of the historical Famous Places In Jammu.
Conclusion:
JAMMU'S BEST PLACES TO STAY
Jammu offers a variety of lodging options. Budget hotels can be found in Upper Gumat Bazar and Chand Nagar, while mid-range hotels can be found on Vir Marg and luxury hotels can be found on Residency Road. Guesthouses and homestays are also Famous Places In Jammu.
JAMMU'S BEST RESTAURANT OPTIONS
Fast food options abound on Residency Road and Vir Marg. Near Nehru Park, there are restaurants that specialize in Chinese cuisine. Garden cafes, bakeries, and the city's numerous inexpensive restaurants are also options.
HOW HAVE JAMMU PALACES CHANGED THEIR PROTOCOLS SINCE THE OUTBREAK OF COVID-19?
As the occupancy rates in palaces have decreased since the outbreak of COVID-19, they are making every effort to create safer and more hygienic spaces that will make guests feel at ease in Jammu's palaces.