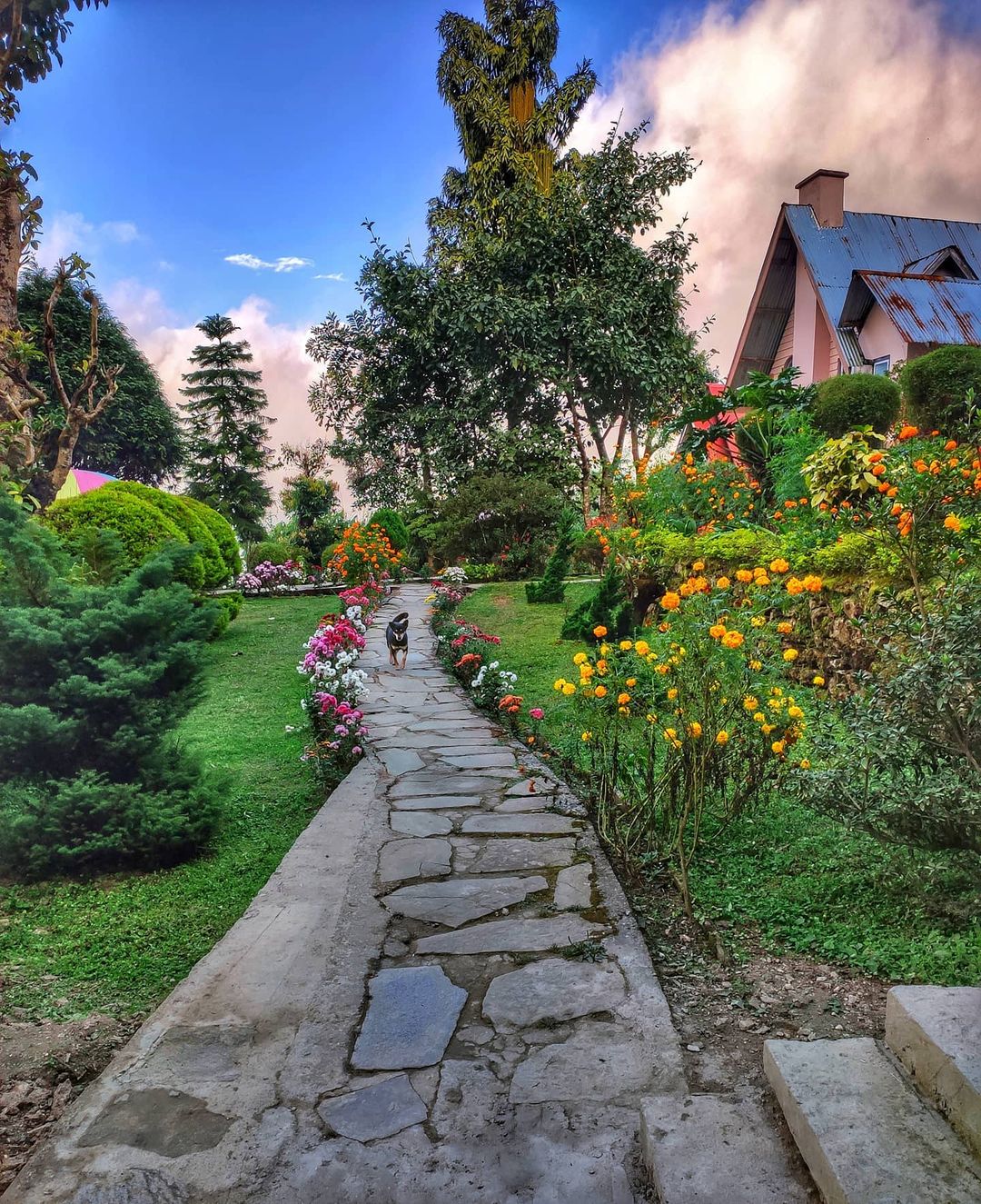 Lava Lolegaon is becoming a preferred choice of North Bengal-bound tourists. Lava Lolegaon is a piece of heaven in the lap of land near Darjeeling. It is an offbeat destination, surrounded by the cold misty clouds of the mountains. The pleasant and rural Lepcha village folded in the mountains of the Himalayas. Its untouched beauty attracts travelers.
Lava is a quaint little village, is located in the Kalimpong district of West Bengal, at an altitude of 2350 mt. Lava is a sleepy and calm village that falls on the trade route of Bhutan. It is surrounded by pine forests and coniferous trees. Lava's lush greenery is ideal for nature treks, bird watching, and plant and wildlife exploration.
Lolegaon or Loleygaon is another exotic village of West Bengal, located only 24kms away from the Lava village of Kalimpong. This Lepcha village is famous for its simplicity and scenic beauty. It is situated about 120 km from Siliguri, at an altitude of 1675 meters. This village serves the glorious view of the Kanchenjunga through the misty clouds. This majestic view makes it the perfect place for relaxing and spending quality time with loved ones.
Tourist Places In Lava-Lolegaon:
Rishyap:
Rishyap is an exotic, romantic village. It is placed in the pristine Neora Valley, Lolegaon in northern West Bengal, just 4 km uphill from Lava. It is also called Rishop. It is recommended to trek upwards as the roads through the deep silent forest of Pines, Rhododendrons, and Orchids though there are paved roads.
It serves a magnificent view of its beautiful market and its surrounding lush greenery. The breathtaking and eye-catching view of the Eastern Himalayan Hills and also of the famous Nathu La Pass can also be explored.
Canopy Walk:
The most amazing forest in Lolegaon, the Canopy walk comprises 180 meters of the hanging bridge that has been hanging from one tree to another. This hanging bridge is made of wooden planks. This bridge is too high and serves a luxury of a view of the wild, pristine forests in all their glory. The bridge keeps on swinging continuously.
Lolegaon Viewpoint:
The Lolegaon Viewpoint is placed high up in the town. The place serves an amazing view of the Neora Valley National Park and the stunning snow-capped Himalayas, located in the background. The place is a beautiful picnic spot with a small garden. A perfect place for photographers.
Neora Valley National Park:
Neora Valley National Park is amongst the wealthiest biological zones. Neora Valley National Park finds is situated in the Kalimpong district of West Bengal, founded in 1986. This national park is amongst the richest biological zones in eastern India, sprawling over 88 sq km of land. This park derives its name from the Neora river that flows through it. Due to the rapid and dense growth of forests, many areas in the park are still inaccessible. Those untouched and undiscovered areas become an adventurous place for nature lovers and trekkers.
Neora Valley, also famous as the land of the elegant red panda. Due to its variety of flora and fauna, it is one of the important wildlife zones. The flora includes bamboo, ferns, oak, sal, etc can be found. Fauna such as Jerdon's Baza, Hodgson's Hawk Cuckoo, Bay Woodpecker, Golden-throated Barbet, and many more can be spotted.
Changey Falls:
Changey falls is a tiny waterfall located between Tiffin Dhara and Ghanti Dhara, about 10 km from Lava, Kalimpong. Although it is an offbeat destination, its water is crystal clear and the sound of falling water in the midst of hills and forests is an amazing experience. It's a small trekking point. This exotic and serene place serves a different environment.
Lava Monastery:
The monastery has a 4-acre piece of land and hundreds of monks live together in this place and preach their beliefs. The monastery has Tibetan architecture. There are various prayer halls, lawns, sitting areas, and a huge Buddha statue in the monastery premises. Built-in the 1980s the monastery. A beautiful place that serves a peaceful environment. An attractive place for photographers.
Eco Park:
Eco-park is situated in the main village of Lolegaon, near to the bus stand. It serves a backdrop of hills and pleasant weather almost all the time. This park serves an absolutely peaceful environment. The place has sitting areas, benches, and pathways.
Jhandidara:
The Jhandidhara Viewpoint is another beautiful viewpoint is which is located at the Lolegaon hilltop, a few km drive or trek from the valley. The most beautiful attraction of this viewpoint is the stunning view of the Kanchenjunga Mountains. Although dawn and dusk emphasize its beauty, at any time it serves a stunning experience.
Tiffindhara Sunset Point:
Tifindara is a well-known sunrise point, which is surrounded by pine forests and provides a beautiful view of the Himalayas. It is located at a point which is about 3km by trek and 10 km by jeep, it has the most amazing view of the Kanchenjunga Mountain Range.
Weather of Lave-Lolegaon and Best time to visit:
Both Lava and Lolegaon villages have almost similar kinds of climatic conditions. Both these villages experience cool and pleasant temperatures all-round the year as both are located at a higher altitude However, the evenings can be chilly and quite cold. Temperatures of the daytime in Lava and Lolegaon do not show massive variations. It is quite pleasant during the summer season, cold in winter, and heavy rainfall during the monsoons.
Lava Lolegaon in Summers:
March to June is the summer in Lava and Lolegaon. The maximum temperature is 25 degrees Celsius and the minimum is 12-15 degrees Celsius. The sky is clear during these months. It is the best time to witness the snow-clad peaks of the Himalayan Range.
Lava Lolegaon in Monsoons:
July to August is the monsoon season in West Bengal. During the monsoon time, Lava and Lolegaon, both the hamlet face heavy rainfall. It increases the chances of landslides. The average rainfall of this time recorded here is 2030mm (80 inches). During the monsoons, The temperature varies from 22 degrees to 30 degrees Celsius. Lava and Lolegaon visit during these months is not a very good idea. 
Lava Lolegaon in Autumn and Winter:
This time is the best time to visit Lava and Lolegaon. This is the most attractive time for travelers and adventurers. From September to February is the wintertime of Lave-Lolegaon. The maximum temperatures can rise up to 15 degrees Celsius and drop down to 7 degrees Celsius- sometimes even to sub-zero degrees. Though this season is quite cold, the skies are clear for a stunning view of the snow-covered peaks, especially the Kanchenjunga and even Mt. Everest.
Monthly Weather in Lolegaon:
| Month | High/Low (°C) | Rain |
| --- | --- | --- |
| January | 15°/ 5° | 9 days |
| February | 17°/ 7° | 6 days |
| March | 20°/ 10° | 10 days |
| April | 22°/ 12° | 16 days |
| May | 22°/ 15° | 30 days |
| June | 24°/ 17° | 29 days |
| July | 22°/ 16° | 30 days |
| August | 24°/ 17° | 29 days |
| September | 23°/ 16° | 29 days |
| October | 22°/ 13° | 14 days |
| November | 21°/ 12° | 5 days |
| December | 17°/ 6° | 3 days |
Best Time to Visit Lave-Loleygaon:
The best time to visit Lava and Lolegaon is from September to June depending on what you want to experience. during this time of the year, The ethereal beauty of the mountains is highest. 
[Also Read: LONAVALA: THE JEWEL OF THE SAHYADRI MOUNTAINS]