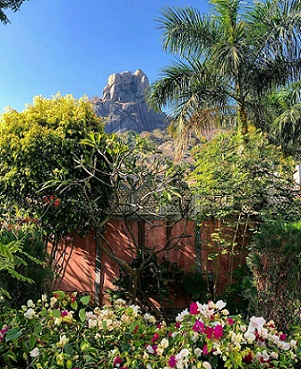 What comes first in your mind as soon as you take the name of Rajasthan? There is obviously a desert spread all around, but Rajasthan has not only the sandy sea, but also beautiful mountains, waterfalls, and natural views. Mount Abu, a small hill station situated on the Aravalli hills in the Sirohi district, will feel like a breeze in the desert. On coming here you will not believe that it is in Rajasthan.
About Mount Abu:
Mount Abu is the one and only hill station of Rajasthan. Mount Abu, located at an altitude of 1220 meters above sea level, is also considered to be the paradise of Rajasthan. Nestled on the Nilgiri Hills, the geographical location and environment of Mount Abu is different from other cities of Rajasthan. This place is not hot like other parts of the state. Mount Abu is a major pilgrimage center for Hindu and Jainism. The historical temple and natural beauty here attract tourists.
(Read Also: 10 FAMOUS PLACES TO VISIT IN DELHI)
Mythological Connection Of Mount Abu:
This place is also called 'Arbudaranya', which was named after the serpent god 'Arbuda'. According to legends, Nagadevata came down this hill to protect Nandi, the sacred bull of Lord Shiva. Arbudaranya's name was later changed to 'Abu Parvat' or 'Mount Abu'. Historically this place was inhabited by Gurjars or Gujjars and their association with Mount Arbuda is seen in the scriptures and inscriptions found in this region.
Cultural Life Of  Mount Abu:
The cultural life of Mount Abu is seen only at festivals and festivities. Every year in the summer festival ie summer festival in June, the whole of Rajasthan comes here. A colorful tableau of folk dance and music is presented by folk artists dressed in colorful traditional costumes. Tourists dance with folk dances such as Ghoomar, Non, and Dhap, and the tourists dance. Boat races are also organized at Nakki Lake during this three-day festival. Shame qawwali and fireworks are a special part of this festival.
Best Places To Visit In Mount Abu:
Beautiful mountains, vegetation, greenery, sanctuaries, lakes, and a cool environment make Mount Abu an excellent place for tourists. Apart from enjoying the natural beauty, you can also visit Brahmakumari Shanti Park for spiritual and mental peace. Let us tell you which places to visit in Mount Abu.
(Read Also:5 BEST HILL STATIONS IN TAMIL NADU)
Nakki Lake:
This is the most famous lake of Mount Abu and on reaching it, you first see Nakki Lake. The view of the lake is very panoramic. The beauty of the lake flowing through the shade of the mountains and the greenery takes the attraction of the tourists here. This lake is two and a half kilometers long.
Dilwara Jain Temple:
Mount Abu is a holy pilgrimage center for those who believe in Hindu and Jainism. It is said that Lord Mahavir, the 24th Tirthankara of Jainism, came to Mount Abu, after which it became a special place for Jain followers. The Dilwara Jain temple here is a unique piece of Jain architecture.
Sunset Point:
When you come to Mount Abu, do not forget to see the sunset here. Above Nakki Lake is Sunset Point which is very popular among Hanimoon Couples. The surrounding view also becomes very picturesque at sunset. People from far and wide come to see this wonderful sight.
Adhar Devi Temple:
Located about 3 km from the city, this temple has been built by rock cutting. To go to the temple one has to climb 365 stairs. You have to bend to go through the smallest lower door of the temple. This temple is quite popular.
Guru Shikhar:
It is the highest peak of the only hill station in Rajasthan, 15 km from the city. The experience of seeing the view of the city by climbing this peak is very special.
Honeymoon Point:
2.5 kilometers north of Ganesh Road is Honeymoon Point, also known as Andra Point. This place is surrounded by lush green valleys and plains. In the evening, it is very pleasant to go near Nakki Lake. There are many other points here from where you can enjoy the beauty of Mount Abu.
Toad Rock:
Toad Rock is a major attraction located near Nakki Lake on the trekking route passing Mount Abu. This rock is named Todd Rock because of its unusual composition. This elevated rock gets its shape from a frog and hence it is called Tod Rock. Tourists are very keen on this place in the entire hill station and go to see it. It is quite nice to see Nakki Lake and the surroundings and greenery from here.
Brahma Kumari Shanti Park:
You will get peace of mind by coming to this quiet and beautiful. Shanti Park lies between the 2 famous peaks of the Aravalli mountain. The park is 8 km from the Brahma Kumari headquarters in Mount Abu and is filled with natural beauty.
Mount Abu Wildlife Sanctuary:
It is situated in the middle of the Aravalli mountain range. In 1980, it was given the status of Wildlife Sanctuary. It is spread over about 288 square kilometers. Various vegetation is seen at this place. Wild cat, bear, scorpion, hyena, Indian fox, etc. are found in this Sanctuary. Apart from this, about 250 different types of birds are found.
Best Time To Visit Mount Abu:
The best time to visit Mountabu is from September to November and from March to May. Because from December to February it is very cold at this place. At the same time, the temperature of this place is extremely hot during the months of June to August.
Foods To Try In Mount Abu:
Rajasthan, the land of Maharajas, is famous for its valuable culture. But the thing that makes it distinctive and famous is the cuisine here. Rajasthani loves their food and always keeps themselves ready for Mahamananwaji Dal Dal Bati Churma and Lal Maas are the most famous dishes here. Every food loved person must come here once. Your Rajasthani journey is incomplete until you enjoy the cuisine here.
Dal Bati Churma:
It is one of the best dishes in Rajasthan, Rajasthani food is not complete without dal baati churma. The round batis is dipped in ghee and eaten with Panchkuti dal and churma.
Gatta Khichdi:
Undoubtedly Gatta Khichdi is the finest rice plate in Rajasthan. This delicious dish which is made from rice and soft gram flour gattas is an excellent evening snack.
Boondi Raita:
This dish is very much liked in North India. This that prepared with a mixture of curd and boondi makes the sweet raita mouth-watering.
Rajasthani Kadhi:
By the way, we all know about many types of Kadhi such as Maharashtra, Punjab, and Uttarakhand. But the Kadhi of Rajasthan is different from all these. It is pungent and spicy, eaten with rice.
Churma Laddoos:
No Rajasthani festival can be complete without churma laddoo. These churma laddoos are eaten after dal-baati, and they are so delicious that you cannot stop yourself from eating them.
Ghevar:
This dish is made with ghee, flour, paneer, and sugar. It is of many types like malai ghevar, mawa ghevar, and ordinary ghevar. Any Rajasthani program is incomplete without this dish.
Balushahi:
It is also a very tasty dish of Rajasthan which is very soft and dipped in sugar from outside. You will not be able to live without eating it.
Mirchi Vada:
Made from chili and potato stuffing, it is very spicy in taste. Eat kadhi or red-green chutney with anyone, you will always enjoy its taste.
Phini:
Phini is also known by the name of Firni throughout the country. Creating yellow and white Phini is not an easy task. But the more grains it is made with, the more its taste is also tremendous. This dessert, resembling a bunch of soft stars, is specially made in the Sardarshahar and Sambhar districts of Rajasthan.
Pyaaz Kachori:
There are also many types of Kachori in Rajasthan. In addition to Dal Kachori in Namkeen, onion kachori and garlic chutney are quite popular. Mawa Kachori of Jodhpur is known for its sweetness. This shortbread is sweet in taste and a kachori reduces your craving for sweet food.
Gatta Ki Sabji:
Gram flour is served as a popular dish in Rajasthan. Shahi Gatta, Govind Gatta, etc. are made of gatta vegetable in many ways which are served with roti and rice.
Lal Mass:
If you are a non-vegetarian, then you must taste the red meat of Rajasthan. Lal Mas is a very tasty mutton curry. Those people who like to eat very spicy will like this red mass curry very much. The red meat you will find in every Dhaba and restaurant in Rajasthan.
Mawa Kachori:
Kachori and that too sweet, Yes, in addition to potatoes, lentils, and onions in Rajasthan, there is another special kind of kachori which your heart will eat again and again after eating. That is mawa kachori. Which can be tested anytime but not on any special festivals or festivals. In every street of Rajasthan, you can taste this kachori in a food and drink shop.
Bajre Ka Raab:
One of the healthy and tasty dishes is Raab. Raab is excellent in warding off colds and colds. Prepared from millet, ghee, ginger, jaggery, it is rich in iron and magnesium.
Ker Sangri:
Ker is a wild berry with a sour-sweet taste and Sangri long bean found in Jaisalmer and Barmer. The climate here is favorable for the production of Sangri. This dish, made with oil and spices, is served with millet bread and buttermilk.
Mohan Mass:
Mohan month is considered as the feast of kings. This dish is cooked in milk and mild spices so that the meat becomes soft. For gravy, poppy seeds, cardamom and lemon are mixed together.