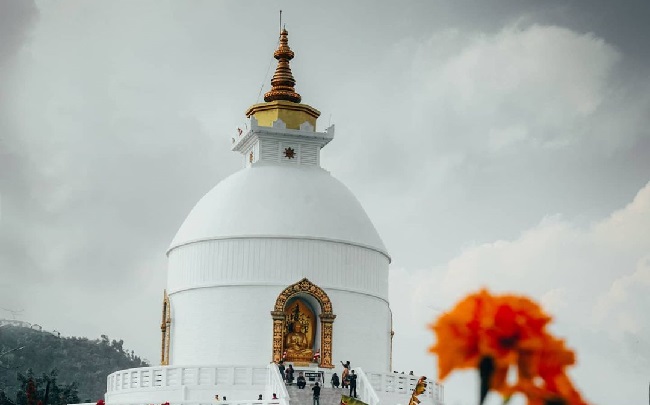 Millions of tourists have found Bihar to be an ideal vacation destination. Bihar carries a slew of labels. The state is proud of having established Lichhavi, one of the world's first democracies. The state of Bihar is rich in historical and religious sites Places To Visit In Bihar.
It is the birthplace of Buddhism, home to a plethora of prosperous kingdoms, and has been a cradle of civilization since its inception. Bihar is primarily known for heritage and religious tourism, but there are many tourist attractions in the state that are worth seeing at least once in a lifetime. Bihar's roots are thought to date back to the dawn of civilization in India, and the state prospered as the seat of majestic empires such as Magadh.
Chatth Puja, Shravani Mela, Makar Sankranti, Buddha Jayanti, and, of course, India's most famous and colorful holiday, Holi, are all held here. Bihar is known for its festivals and melas (fairs), but there are many more locations to explore. There are numerous tourist attractions to see and discover in this area. So, let's go over all of the Places To Visit In Bihar in Bihar that you should see during your vacation.
Best Places To Visit In Bihar:
1. Patna: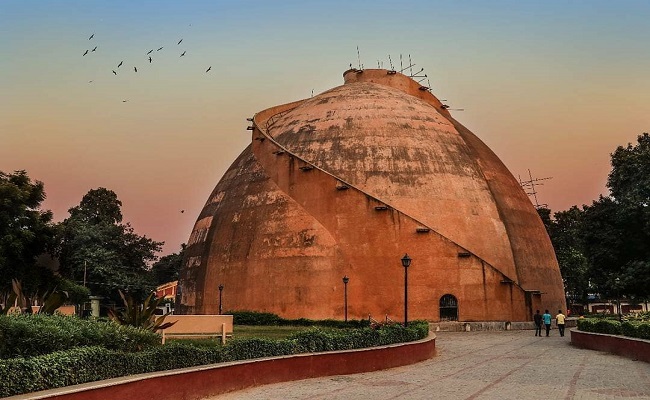 Patna one of the famous Places To Visit In Bihar, also known as Patliputra and located on the banks of the river Ganga, is the largest city in Bihar. Patna is on the list of important locations to visit in Bihar since it is the birthplace of the last Sikh Guru, Shri Guru Gobind Singh JI, which is the main motivation for visitors. During the reigns of the Mauryan dynasty, the Guptas, Palas, Shungas, and Haryankas, the city flourished.
Patna is currently attempting to keep up with modernity, thus all modern amenities, like high-end cafes, shops, and elegant hotels, can be expected. Gurudwara Pahila Bara, Takht Shri Patna Sahib, Qila House, Agam, Kuan, and many other tourist attractions can all be found here.
Also Read: TOP 13 BEST PLACE TO VISIT KARNATAKA
2. Gaya: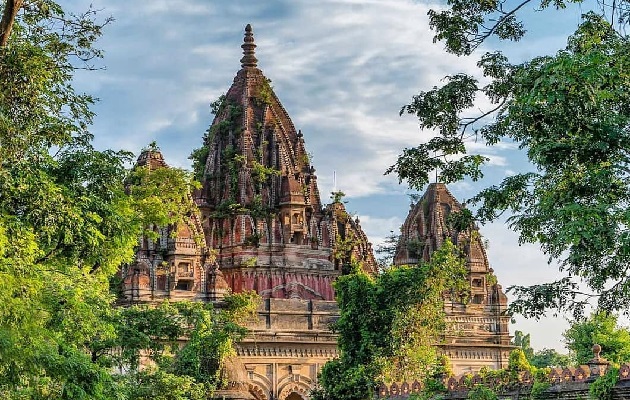 Gaya, a lively city on the banks of the Phalgu River, is one of Bihar's greatest tourist destinations, enchanting visitors with its religious spirit. The Lord Buddha attained enlightenment under the Bodhi tree here adds to the allure of this location for both visitors and worshippers.
The city has a position in Hiuen Tsang's travelogues because of its revered Hindu temples, notable Buddhist locations, and historical edifices from the Mauryan dynasty. Bodhgaya, the Bodhi Tree, the Barabar Caves, the Magla Gauri Shrine, the Bhutan Monastery, the Muchalinda Lake, and many other sites are among the prominent attractions.  Gaya is One of the Ancient Places To Visit In Bihar.
3.Bodhi Tree In Bodhgaya :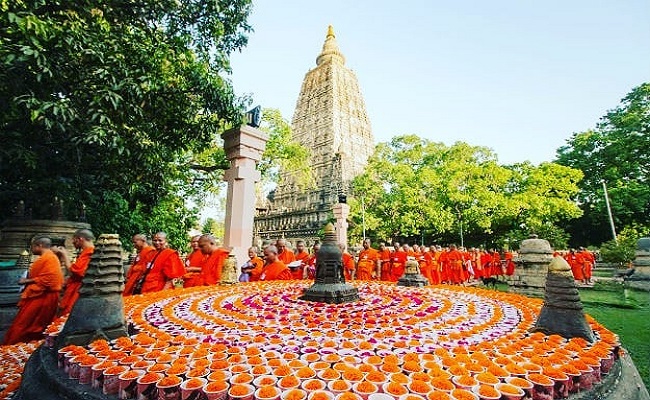 It is one of the holiest Places To Visit In Bihar. The tree of the Bodhi Buddha meditated for more than a month under this tree, which was located on the left side of the historic Mahabodhi Temple. The current Bodhi Tree is thought to be the sixth generation of the original tree. Intricately carved votive stupas, a number of Buddha sculptures, and chaityas surround the tree. Many Buddhist monks can be found sitting under the Bodhi tree, meditating, or reading during your stay. This place is one of the favourite places for pilgrims and travellers.
Also Read: TOP 13 BEST PLACE TO VISIT ASSAM
4. Nalanda: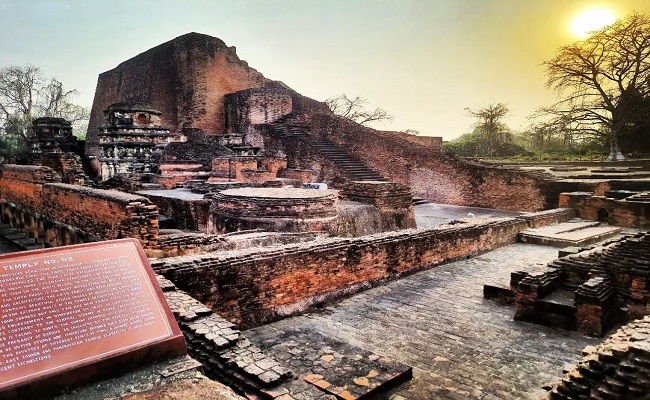 Nalanda, India's most ancient university, is the Oldest university Places To Visit In Bihar. Nalanda, an acclaimed tourist site in Bihar, is a beautiful reminiscence of the booming Gupta and Pala periods.
Nalanda University was founded in the fifth century A.D. The university exemplifies India's prominent role in knowledge transmission. The university had 2000 teachers who taught over ten thousand students from all over the world.
Both Mahavira and the Buddha are said to have visited Nalanda in the 6th and 5th centuries BCE, according to traditional sources. Hiuen Tsang, a Chinese traveller, visited Nalanda University during his 633AD visit to India. During the Gupta dynasty's reign, he stayed for twelve years.
The Islamic fanatic Bakhtiyar Khilji, a Turk, destroyed Nalanda University in 1193.
5. World Peace Pagoda In Rajgir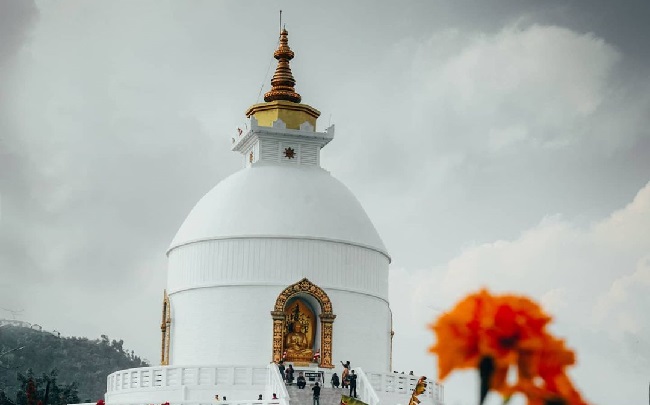 World Peace Pagoda is also known as the  World Peace Pagoda, stands proudly in the historic city of Rajgir. It is one of the seven Peace Pagodas built in India and is a must-see in Bihar.
The pagoda was built in 1969 to spread the message of nonviolence and peace. This Peace Pagoda, marked by four Buddha statues that represent four important stages of Buddha's life – birth, enlightenment, teaching, and death – is one of India's finest examples of Japanese architecture. It is one of the most popular Places To Visit In Bihar.
Also Read: TOP 17 BEST PLACES TO VISIT IN KERALA
6. Vaishali: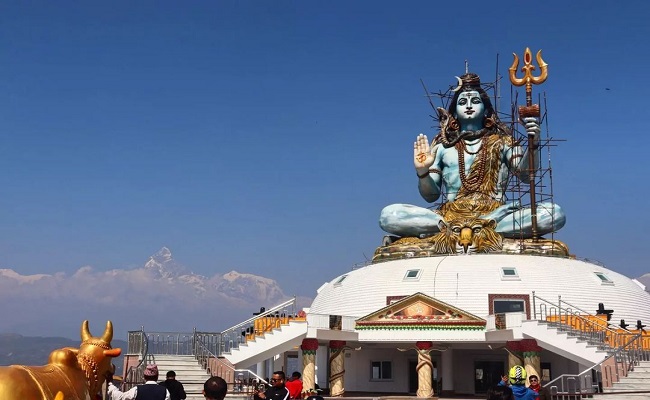 Vaishali is a popular tourist destination in Bihar and an important pilgrimage site for Jains and Buddhists from all over the world. It is thought to be the birthplace of Lord Mahavira, making it an important site for Jains.
Ashoka, the great emperor, also built the famous Ashokan Pillar, which still stands in Vaishali, in honour of the Buddha. Despite its small size, it is one of the most interesting places to visit in Bihar, known for its historical significance, sprawling mango and rice fields, and peaceful natural beauty.
7. Navlakha Palace: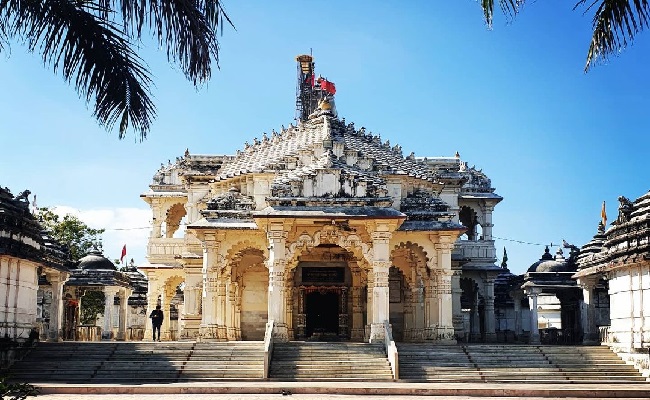 The palace was built by Maharaja Rameshwar Singh of Darbhanga in the town of Rajnagar near Madhubani in Bihar. It was severely damaged by an earthquake in 1934 and, sadly, was never rebuilt. A marble temple dedicated to the goddess Kali is located near the Kamala river and is still well-visited. It is one of the major tourist attractions places to visit in Bihar.
Also Read: BEST 17 PLACES TO VISIT IN ARUNACHAL PRADESH
8. Jalmandir: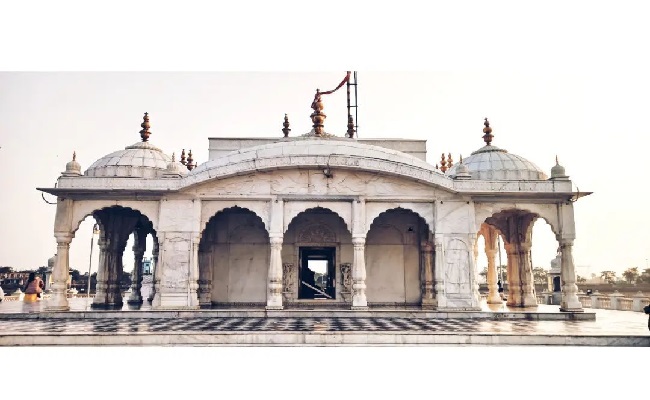 Jalmandir, an important Jain pilgrimage site, is located in Pawapuri, Bihar. Jalmandir is highly revered by Jain devotees because it is believed to be the location where Lord Mahavira breathed his last in 500 BCE. It is thought to be the cremation site for the Jain sect's last Tirthankara. According to legend, the demand for Lord Mahavira's ashes was so great that so much soil had to be eroded from around the funeral pyre that a pond was formed here. A white marble temple was built, and it has remained a significant Jain pilgrimage site Places To Visit in Bihar.
9.Hieun Tsang Memorial Hall: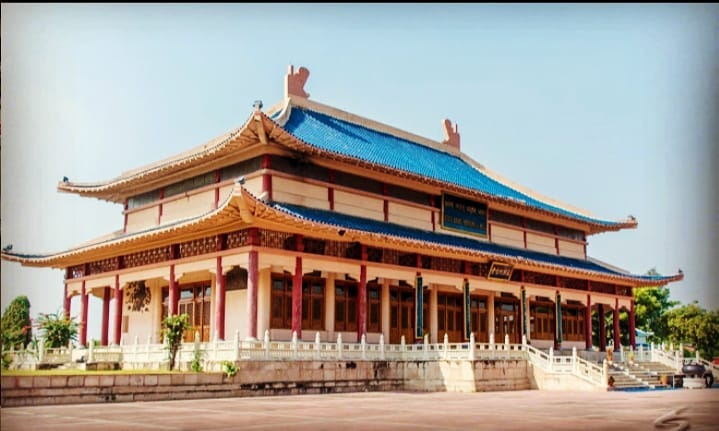 The structure is rich in architecture and was built in memory of the famous Chinese scholar and traveler Hieun Tsang. During his visit to India, Hieun Tsang stayed in this location for more than 12 years. This is where Hieun Tsang learned yoga under the tutelage of Acharya Shil Bhadra. The memorial hall contains works by the famous traveler that shed light on medieval India and Nalanda.
Also Read: TOP BEST 15 PLACES TO VISIT IN PUNJAB
10. Buxar Fort: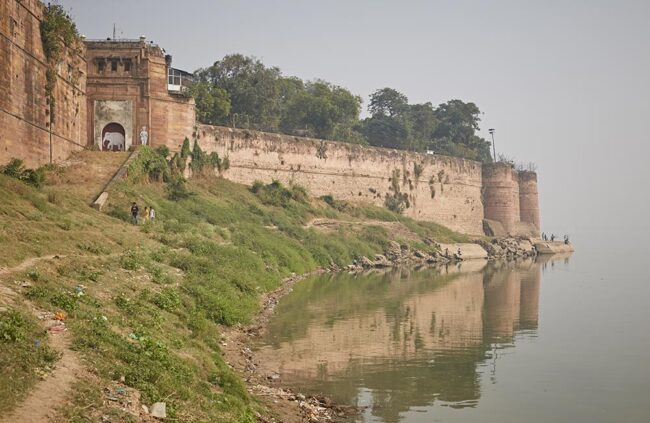 The historic fort of Buxar, located along the Ganges River, was built in 1054 AD. The carvings in the fort provide breathtaking views, and the fort's architecture is exceptional. While you're here, don't forget to visit Gauri Shankar Temple and Nath Baba Temple, two local tourist attractions Places To Visit in Bihar.
 11. Griddhakuta Peak: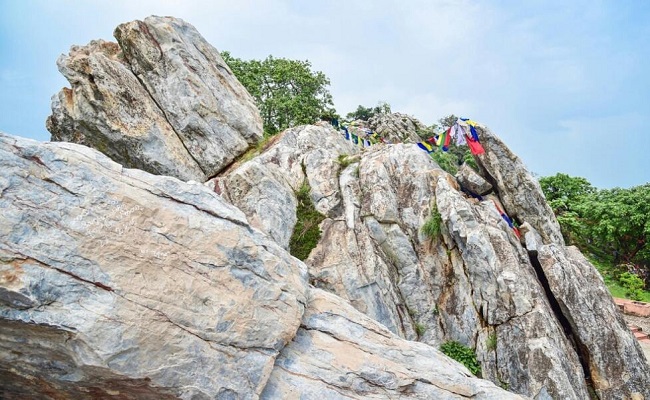 Griddhakuta Peak, also known as Vulture Peak, is located in Rajgir, Bihar. The most Places To Visit In Bihar is this summit. Because of its shape and frequent visits by vultures, it is known as Vulture Peak. The location is significant in history since it is thought to be the location where Lord Buddha delivered the Lotus Sutra to convert Mauryan King Bimbisara.
It is also thought that Buddha began the second wheel of law here and preached multiple lectures. A Peace Pagoda on the mountain is claimed to have been built by Japanese Buddhists. There are a number of caverns here as well, which adds to the thrill of taking the chairlift here.
Also Read: 16 TOP BEST PLACES TO VISIT IN TELANGANA
12. Barabar Caves: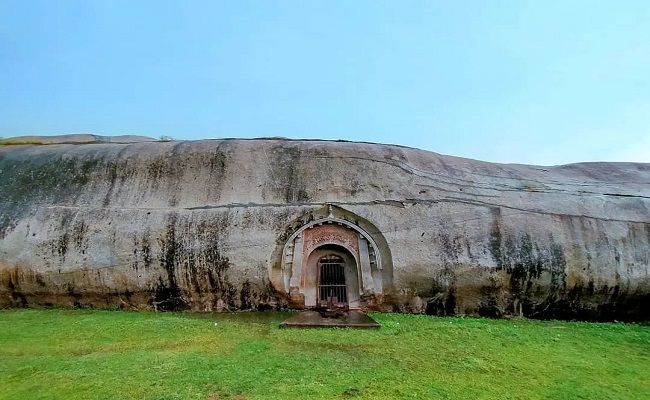 The Barabar Caves claim to be India's oldest rock-cut caves. These magnificent caves, which date back to the Mauryan Empire, are unquestionably one of the best places to visit in Bihar. The caves are located on twin hills – Barabar and Nagarjuni. However, many traces of Buddhist and Jain art can be found here. Barabar Hills has four caves, while Nagarjuni Hills has three caves. Each cave is well-polished and has articulate designs and inscriptions on its walls and ceilings. One of the most beautiful Places To Visit In Bihar.
13. Munger: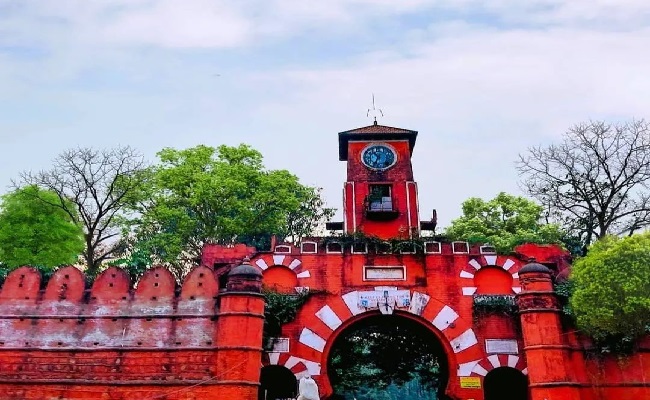 Munger, the Aryan Midland and the capital of Mir Kasim, has a fascinating history worth exploring. It is now home to the Bihar School of Yoga, making it an ideal location for yoga enthusiasts. A significant foreign audience is expected to swarm this picturesque spot, which is regarded as one of India's top Yoga destinations, in addition to exploring historical ruins. Sita Kund, Shri Krishan Vatika, Manpatthar, Goenka Shivalaya, Ucheswarnath, and other sights in Munger are the most lovable Places To Visit In Bihar.
Also Read: 16 TOP BEST PLACES TO VISIT IN CHATTISGARH
Conclusion:
Many tourist Places To Visit In Bihar may be found in Bihar, including religious and historical icons that symbolize Buddhism, Jainism, Hinduism, and Sikhism. Bihar is home to a variety of cultural, historical, and natural landmarks. Despite the fact that Bihar has a number of tourist attractions, Gaya is one of the most important because of its connection to Lord Buddha's enlightenment. Nalanda is also the most important location since it is a hub of study, power, culture, and history.