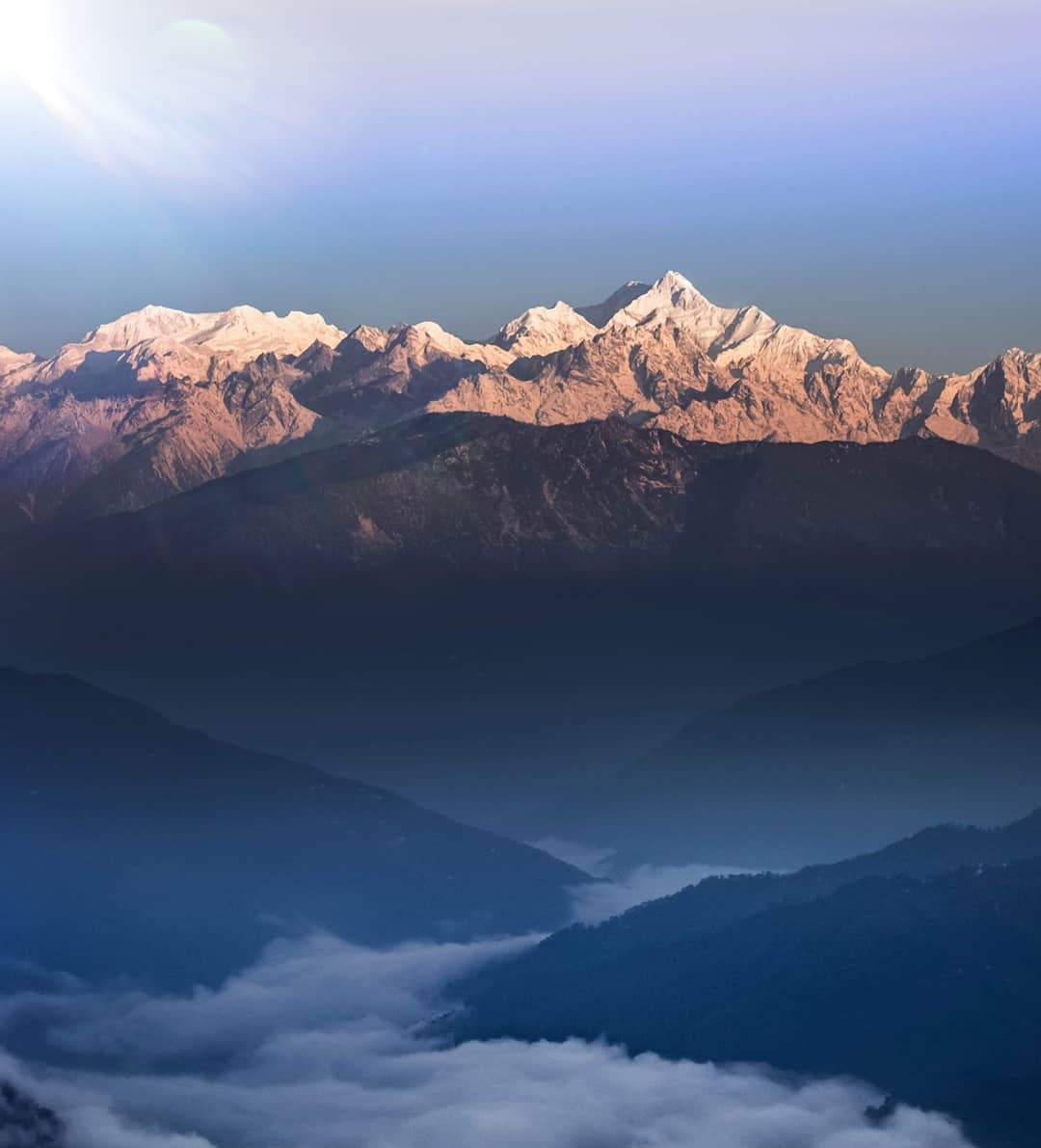 Darjeeling is so beautiful that it is known as Queen of Himalayas. Darjeeling is a beautiful hill station and one of the best hill stations in the Eastern part of India. This hill station is an amazing hill station surrounded by greenery from all sides. It is a very famous region all over the world due to its tea. But also due to its beauty, it attracts tourists from all over the world.
Darjeeling is situated at an altitude of 2,050 mt above sea level. This beautiful hill station is an ideal place for a romantic honeymoon. It is situated around 700 km away from Kolkata. Darjeeling is a famous and attractive tourist destination in North-East India.
The Darjeeling city is known as the 'Queen of the Himalayas' because of its stunning view of the Himalayas. You can see lush green slopes dotted with women plucking tea leaves. There are over 86 tea estates that are responsible for producing the world-famous 'Darjeeling Tea'.
Darjeeling was the previous summer capital of India under the British Raj. It is famous for its beautiful view of the Himalayas, amazing tea plantations, and the quality of Darjeeling tea. In 1881, the toy train was built, now one of the UNESCO World Heritage sites. Old and beautiful colonial architecture, such as churches, mansions, etc increases the heritage and beauty of this town.
Famous Places to Visit in Darjeeling:
Darjeeling Himalayan Railway:
One of the most popular places to visit in Darjeeling, the Darjeeling Himalayan Railway, also referred to as the DHR. It is also called the 'Darjeeling Toy Train'.DHR is approx 2 feet a narrow train track that covers the distance between New Jalpaiguri and Darjeeling, covers 78 km. This mini-train service was started in the 18th century. It is currently the only mini rail service in India
Tiger Hill:
The most famous mountain peak of the Himalayas in Darjeeling, Tiger Hill is known for its stunning views of Mt. Everest and Kanchenjunga. It is also a famous trekking route of Darjeeling. Tiger Hill has situated a distance of 13 km away from the Darjeeling and at an altitude of about 2590 mt above sea level. Tiger hill is also the summit of Ghoom, which is the highest railway station in the Darjeeling Himalayan Railway. It is a UNESCO World Heritage Site. Tiger hill is the most attractive place for tourists to witness marvelous sunset and sunrise. It is also a famous place to view some of the famous snow-clad peaks of the Himalayas.
Batasia Loop:
The name of Batasia Loop is also a popular tourist destination in Darjeeling. Batasia Loop is a mesmerizing toy train pathway as the view around it looks green. The views of the snowy peaks of Kanchenjunga from this place are amazing. Batasia loop is situated in Ghoom, which is about 5 km from the main city. One of the most dazzling views of the Batasia Loop is its unmatched natural beauty. After witnessing the sunrise at Tiger Hill, Batasia Loop is recommended visit. This is because the beautiful carpet of flowers that leads to Batasia Loop is eye-catching and marvelous. 
Nightingale Park:
Nightingale Park is one of the famous places to see in Darjeeling. It is placed in the mesmerizing hill station. the Nightingale Park is a public park. Tourists and locals come here to relish gorgeous views of the Kanchenjunga ranges. The main reason for visiting this park is its magnetic views of the majestic Kanchenjunga. This park was formerly called 'The Shrubbery'. Then, it was a private courtyard of Sir Thomas Tartan's Bungalow. There is a giant statue of Lord Shiva in the park. A vibrant meadow and a musical fountain can behold your sight. This park was closed for almost 4 years for renovation. After the work of making this park beautiful was done and again opened to tourists in 2011.
Observatory Hill:
Observatory Hill is one of the top tourist destinations. This Observatory Hill is famously known for its Buddhist and Hindu temples that are spread across this Hill. It is a rising hill, situated above Chowrasta Square, around 2 km from the Darjeeling Himalaya railway station, just above the Mall Road. Some of the famous temples of this place are Mahakal Temple, Kanchenjunga Temple, and Tibetan Memorial Shrine. This place is a famous trekking route of this Hill and is quite beautiful. There is also a small cave situated at a distance of about 15 minutes. The beauty of that cave is eye-cathing. 
Mahakal Mandir:
Mahakal Mandir is constructed by dedicating Mahakal or Lord Shiva, a popular and highly revered temple is set at Observatory Hill. Mahakal Temple is at a distance of 20-minutes from the road. Big signboards on the pathways guide the travelers to reach the destination. There is a Tibetan remembrance place of worship close to the Mahakal Temple, which has the relics of Dorje Lama, who was the guardian of the sanctuary in the 1880s.
Singalila National Park:
Singalila National Park, Darjeeling is the highest national park in the town as well as in West Bengal. It is situated at an elevation of more than 7,000 ft above sea level. It is a wildlife sanctuary. The national park encompasses 78.60 sq km land of rhododendron forests, alpine valley, and rare species of animals and orchids.
This park is a part of a trekking route. It is a paradise for trekkers and adventure lovers. Singalila National Park got its name after Singalila spur. Rare sighting of Red Panda and Himalayan Black Bear can be seen. Singalila National Park is strictly reserved for the protection of biodiversity and activities, for the residing animals of this national park. Forestry, poaching, hunting, etc are not allowed.  
Sandakphu Trek:
Sandakphu peak of Himalaya is the highest peak in West Bengal. It is the third highest mountain in the world. By the local people, it is referred to as 'The Sleeping Buddha', because it looks like a man lying on his back. That is why it is the center of attraction of Darjeeling tourism. Sandakphu mountain is placed in front of Singa Leela National Park in Darjeeling. Sandakphu is situated at an altitude of 11,929 ft, almost near the Nepal border. It serves an amazing view of four out of the five highest peaks in the world. Sandakphu is called the "mountain of poisonous plants" because of the prosperity of Himalayan Cobra Lilies. 
Peace Pagoda:
Peace pagoda or Japanese Peace Pagoda is placed on the slopes of Jalapahar hills. There are four avatars of Buddha placed inside the premises, including the famous Maitreya Buddha. This complex was constructed between 1885 and 1985 by a Japanese Buddhist monk Nichidatsu Fuji. Peace Pagoda is established to make unity, harmony, and goodwill.
Off-beat Places to Visit Darjeeling:
Ramdhura:
Ramdhura is surrounded by emerald thick pine trees. Ramdhura is a freshly discovered off-beat destination in West Bengal. It is placed at an altitude of 5000ft. and serves an amazing view of Kanchenjunga. It is a very serene place. Some rare Himalayan wildlife can be found here. Some activity like paragliding, trekking is done here.
Sitong:
Sitong is called Land of Oranges. This hamlet is surrounded by plenty of orange trees. Sitong is a Lepcha hamlet, situated at an altitude of 4000 ft. It has pleasant weather and a serene environment. With mouth-watering oranges, it serves an amazing view of Kanchenjunga.
Lepchajagat:
Lepchajagat is a tiny village, situated around 19km from Darjeeling. It is placed at an altitude of 6,956 ft. This village is considered a paradise for travel enthusiasts, nature lovers, and honeymooners. The name "Lepchajagat", 'Lepcha' and 'Jagat' signifies 'world', so it means that it is the 'Universe of Lepchas'.
Lamahatta:
Lamahatta is a beautiful village in West Bengal, around 23km from Darjeeling. It is situated at an altitude of 6800ft. Lamahatta is a quiet and serene town. The word 'Lamahatta' means Monk's Hermitage. This place provides an environment that feels as peaceful as a monk.
Food And Beverages to Try in Darjeeling:
Darjeeling serves amazing picturesque nature and stunning views of the Himalayas. Besides, Darjeeling is also famous for its delicious foods. There are plenty of multi-cuisine and specialized restaurants in Darjeeling. Some famous foods of Darjeeling:
Momos:
Oh! Momos! The name itself fills the mouth with delicious flavors. Though Momos have become famous food in many metropolitan cities, it is one of the most adored plates of food in Darjeeling. Momos are generally dumplings made out of flour with vegetable or chicken/pork stuffing. Momos are served with a bowl of hot soup, as an afterthought with generally 6-7 pieces on a plate. 
Thukpa:
Thukpa is another very famous traditional Tibetan food. A hot-noodle soup, Thukpa comprises numerous veggies, some standard hint of flavors, and Hakka noodles. It is one of the most popular dishes within the town and is available in all the restaurants and roadside stalls. Thupa originally is served as a starter, but it can also be eaten as a main course, as it is delicious and healthy!
The Traditional Nepali Thali:
A Thali is a platter of a variety of foods served on a single plate. The traditional Nepali Thali is an amazing combination of our daily lifestyle food. A conventional Nepali Thali contains dal, Vaat, Tarkari or vegetable curry, Achar or pickles, curd, papad, and sweet dish at last. These Thalis are quite similar to Bengali Thali.
Sael Rotis:
Sael Roti is another of Nepal's specialties. It is a traditional assortment that will make your tongue so yum! It is not available in most of the local restaurants. But the local people will feed you Sael roti in their home. This is a round-shaped bread, made of rice paste and then deep-fried.
The Naga Cuisine:
There are authentic Naga dishes available in Darjeeling. Though the Naga population is considerably low in Darjeeling, they spread an impact on the food. Naga cuisine is a famous food of the Naga tribe. The way of making Naga cuisine is something different. The meats and fishes are often cooked through the process of smoking, fermenting, etc.
Best Time to Go to Darjeeling:
The atmosphere of Darjeeling is profoundly damp because of the closeness of the Bay of  Bengal. Due to its topographical location, it has spring-like weather throughout the year. During winter its weather turns into cold comparatively.  
[ Also Read: Famous Tourist Places In Kolkata ]