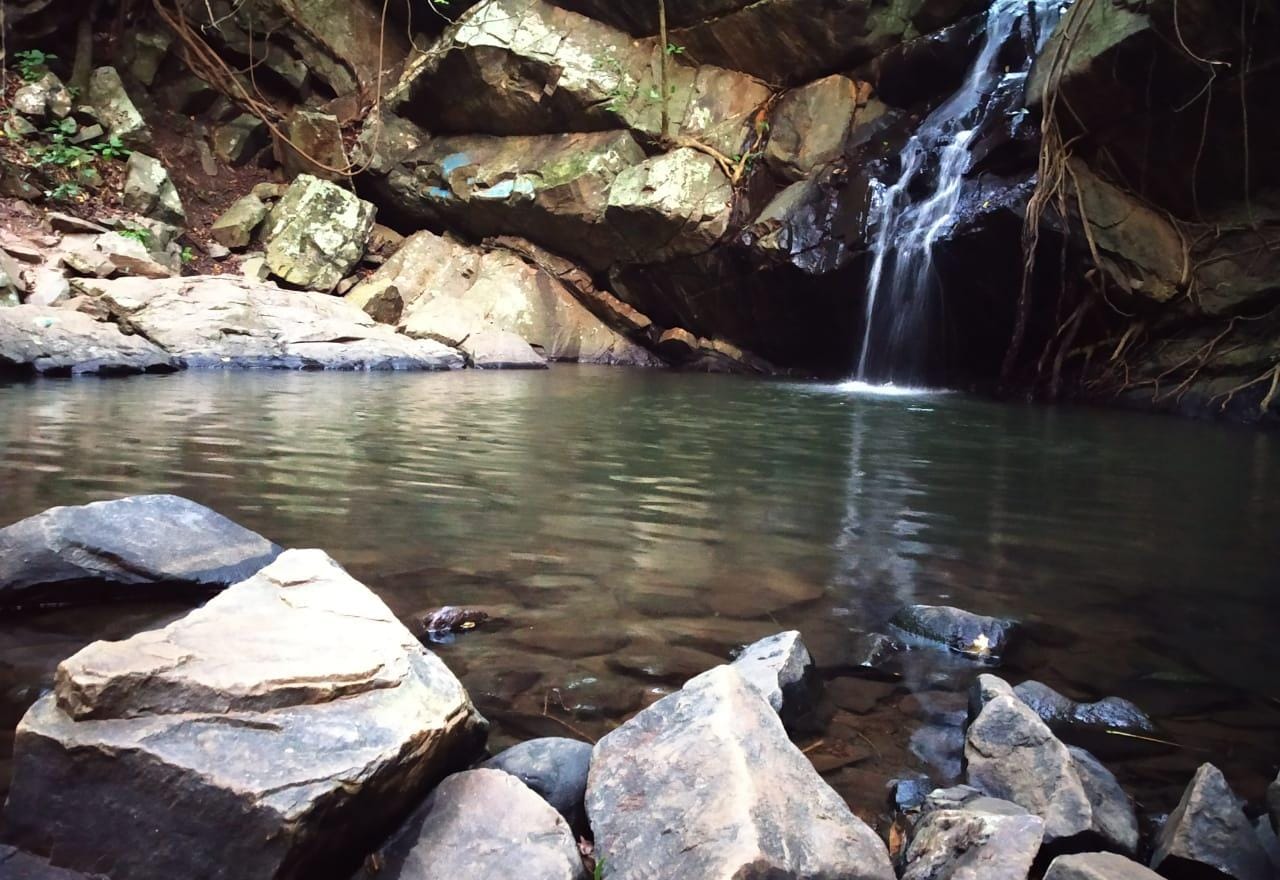 Ghatsila
is a tourist spot, situated on the bank of the river Subarnarekhka,  surrounded by falls, dams, forest,  tiny hills, etc. This place is located in Jharkhand near the West Bengal border. This place is an enchanting place to visit. Most of the people of Ghatsila are tribes. The people are so friendly and their characteristics are really notable. From summer vacation to new year celebration, from honeymoon holiday to weekend holiday Ghatsila is be fitted.  An extremely beautiful place covered with natural beauty. latitude is 22.60° N, and longitude 86.48° E.
Hey! I'm Rittika a daydreamer, travel lover. I love to explore those places where I wish to travel.
My Experience of travel to Ghatshila
The day was 14th November, I packed my bag and boarded the train with five of my friends. Five of us were a little bit disagreed about to go to Ghatsila. But the host and Our friend Riddhiman Kunti said to us, " You are going to love the place. You will wish to stay there for more days."
We took the easiest and inexpensive way to go to Ghatsila. We took Mumbai LTT Kurla Express from Shalimar station. It took around 5 hours to reach Galudih. We decided to stay in a lodge in a little offbeat place. Our lodge 'K D Palace' was near Galudih station. Similarly, closer to the "Subarnarekha" river.
The next morning we had started a journey for side scening, rented a six-seated car. At first, we visited Burudih lake and enjoyed boating. We bought some local handcrafts.
Burudih lake is an extremely beautiful tourist spot in This place. It's placed around 9 km from Ghatsila and approx 55 km from Jamshedpur. We would get autorickshaws from Ghatsila station. But we rented a car, and it takes approximately 30-40 minutes from Ghatsila. You can also go there from Jamshedpur. It takes around 1-1.5 hours from Jamshedpur to reach Burudih lake.
It's a very famous spot in Ghatsila where wild elephants use to come to drinking water from the lake. It is also known for the 'Binda Mela' of the Santhal tribe. If you want to visit the fair, you have to go there in October. But the best time to visit Ghatsila is from December to February.
Again we had started the journey for Dharagiri falls and it took around 5-10 minutes by car. Reaching there we walked through a little path of 15-20 minutes full of stone and rock. And we reached. As we went there in November, it was just a line of the stream. But the best time to go to see it is august-September.
A small stream, crystal clear and cold, that is placed on 20-25 ft hill-tops in the mid of the jungle dense by trees and hills which is a part of the Dalma range. You can also see some wild animals that live in the forest. The scenario of Dharagiri falls is extremely beautiful and peaceful. If you are visiting Ghatsila and you are a nature lover, you must visit Dharagiri falls once.
At last, We went to Ratmohona to witness the stunning view of Sunset. It is very close to Galudih.
This place is situated on the bank of the river Subarnarekha. You should witness the sunset on Subarnarekhha in Ratmohona. It's a stunning view. It's an artificial fall. Local people bathe and catch fish here. But as the flow is very high and the rocks are so slippery that tourists are not allowed here. But you can stand on the old bridge build by the British.
We went to Dimna lake near Dalma Wild Life Sanctuary.  It is overall a good scenario. But the problem is the area is too dirty with plastic bags, bottles, packets, etc. I think the authority should take some steps to make it clean. But as the view is beautiful we captured a lot of photos and selfies.
Dimna Lake is a popular tourist spot in Jamshedpur near Ghatsila. It is a manmade lake to supply water to Jamshedpur town. You can make a short trip to visit Dimna lake.  There is an island in the middle of  Dimna lake. But it's the private property of Tata company
It takes around 30 minutes from Dimna Lake to Tata Steel Zoological Garden.  We had our lunch from a shop there.
An attractive spot, especially, for children situated in  Jamshedpur near Ghatsila. A beautiful zoological park, where animals roam freely. There are tigers, hippos, leopards, hyenas, and other wild animals, crocodiles, birds, etc. A clean and well-maintained area near jubilee park. There is also a lake. We loved it.  If you have children with you, you must visit this tourist spot.
Then we went to Jubilee Park. It is just the opposite of the zoological garden. We captured photos and lots of selfies there. The journey was fabulous.
Jubilee Park is another famous place of tourism in Jamshedpur near Ghatsila. It's a beautiful place to picnic and play games. Bushes, artificial water fountains, and gardens extend its beauty. We played lots of games here, captured photographs and selfies.  It was great fun. If you want a break from the town's traffic, you should visit this amazing park in Jamshedpur.
We went to the House of Bibhutibhasan Bandhopadhay. Unfortunately, it was closed because we went there in the evening.
Renowned Bengali writer Bibhutibhusan Bandhopadhay has a cottage named 'Gouri Kunj' in This place. But, I think the authority should take some steps and invest money to reconstruct an iconic writer's house. You may visit this library cum house of Bibhutibhusan Bandhopadhay.
Returning to our lodge, in the evening we did a campfire on the premises of our lodge. We sang, we danced. we enjoyed it a lot.
But we missed Fuldungri hill, Rajbadi at Rajstate, Ramkrishna Math at Dahigora, Shivdas Ghosh Children's Park, Chota Pul at Swarnarekha River.
I wish to go to This place again.
Ghatsila, Galudih, and Jamshedpur these three cities that are interconnected with each other. At first, most of us were not agree with This place because Ghatsila was once a place of Maoists. We never thought Ghatsila could be that beautiful place. It is a safe place though you should avoid Burudih and Dharagiri after the evening. It's a famous offbeat picnic spot. Local people are really very friendly and innocent.  We loved Ghatsila. Our friend Riddhiman proved us wrong. He was right Ghatsila is really a fabulous place.
If you are a travel geek and nature lover, you must visit Ghatsila once.
Other Tourist Spots of Ghatsila:
Fuldungri hill
Rajbadi at Rajstate
Chota Pul
Jadugora Rankini Temple
Dalma Wildlife Sanctuary etc.
Best time to visit:
Extremely hot from mid-April to May, and extreme cold from mid of December to February.
The best time to visit Ghatsila is from October to mid-April when the weather is cool and conducive.
How to go:
The town Ghatsila is situated at East Singbhum in Jharkhand, 45km from Jamshedpur city.
By Train:
Mumbai LTT Kurla Express

Howrah – Barbil Jan Shatabdi Express (12021)

Ispat Express (12871)

Lalmati Express (12865)

Purushottam Superfast Express

Ghatsila Howrah Local
By Road:
If you want to travel by road, the distance is around 240 km between Kolkata and Ghatsila. You can go via NH16 and NH49.

There are many buses, including Volvo from Kolkata to Ghatsila, via Kharagpur.
Car/Cab Rental Service
TATA INDICA Hatchback | AC | 4 Seats-5544 (10.00 Per km)
SWIFT DZIRE Sedan | AC | 4 Seats-5675 (10.25 per km)
TATA INDIGO Sedan | AC | 4 Seats-5675 (10.25 Per km)
TOYOTA INNOVA SUV | AC | 6 Seats-7897 (14.50Per km)
MAHINDRA XYLO SUV | AC | 6 Seats-7897 (14.50 Per km)
HONDA CITY Premium | AC | 4 Seats-16107 (30.00 Per km)
[Read More: 18 MOST FAMOUS TOURIST PLACES IN KOLKATA ]